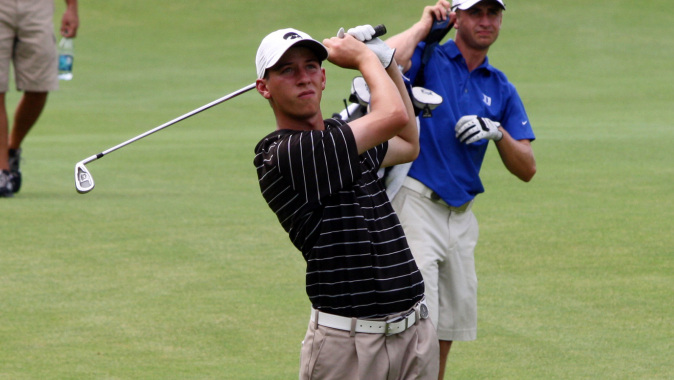 Feb. 18, 2015
Editor's Note: The following first appeared in the University of Iowa's Hawk Talk Daily, an e-newsletter that offers a daily look at the Iowa Hawkeyes, delivered free each morning to thousands of fans of the Hawkeyes worldwide. To receive daily news from the Iowa Hawkeyes, sign up HERE.
IOWA CITY, Iowa — As the 2015 University of Iowa men's golf season gets underway, former Hawkeye Vince India and other former UI standouts continue to move up the ranks of the professional golf world.
India (2008-11), who competed on the Web.com Tour last year, led the 2011 Hawkeyes to a 10th place finish at the NCAA Championships after being named the Big Ten Player of the Year and winning the coveted Les Bolstad Trophy for lowest season stroke average in the conference.
"A realistic goal for me this year is a top five, and the real goal is to have myself in the position to win a golf tournament on the weekend," said India. "Last year was a good experience for me. I learned a lot about my golf game and myself. A little maturity came forth last year, so I'm ready to go out and make a name for myself and start competing at bigger stages."
For many, the Web.com Tour is the stepping stone to the PGA TOUR, India's ultimate goal.
"The goal is to get my card back and play on the Web.com Tour this year," he said. "I want to play well enough there that I can get my PGA TOUR card for 2016. That's still the goal, but it's going to be a lot harder, and I'm going to have to work a lot harder for it.
"If that doesn't happen, the plan is still to go out and play at least a half a year on the Web.com Tour, play a full year again next year in 2016, and then play on the PGA TOUR in 2017."
No matter what tour India is competing on, he is a prime example of the rise of the UI men's golf program.
The Hawkeyes have advanced to NCAA competition in each of the last six seasons, joining Illinois and Northwestern as the only Big Ten teams selected to NCAA Regional competition during that span. Iowa has advanced to the NCAA Championship finals three times in the last six years.
India helped start the current run, as he led Iowa to NCAA postseason competition in his final three seasons in Iowa City, including NCAA Finals appearances in 2009 and 2011.
"I like to look back on where I was when I got to Iowa City," said India. "The group of guys were great, a lot of upperclassmen that I was able to hang out with and learn from. It was nice to see where the program went once (Mark) Hankins came in, and fortunately Brad (Hopfinger) and I were lucky enough to lead the team to its height and where it is now. I like to think we have a little credit in that."
India still follows the program closely, and is excited to see Tyler Stith back in Iowa City. Stith, in his first season as head coach, was an assistant at Iowa during India's career.
"I knew he was always willing to have a bigger role at Iowa than to just be an assistant," said India. "Once he got the grasp of things at Minnesota, he came back and now he is doing some great things. It seems like the guys love him and he is turning them all into great players."
India's time at Iowa prepared him well for his future, and he is thankful for his time in Iowa City.
"The people I met and the relationships I made helped me grow into a nice, young man," said India.