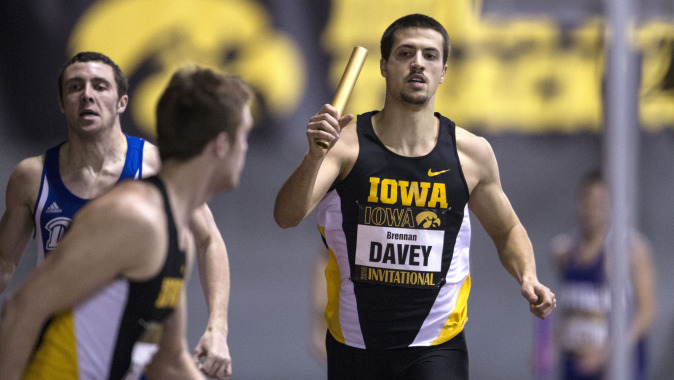 Feb. 21, 2015
Complete Results

SOUTH BEND, Indiana — The University of Iowa track and field team tallied 12 career bests at the Alex Wilson Invitational on Feb. 21. Competition was held inside the Loftus Sports Center at the University of Notre Dame. No team scores were kept.
"This was a great meet for us today," director of track and field Joey Woody said. "We had some high-end performances and personal bests that will set us up very well going into the Big Ten Championships. It gives us a very positive momentum heading into next week to have a number of individuals who set or matched their personal bests today."
Aaron Mallett tied his personal best in the men's 60-meter hurdles. The sophomore earned a second-place finish when he crossed the line in 7.88, a mark that ranks third in the conference. Freshman Jahisha Thomas (8.90) sealed a fifth-place finish in the women's race to lead Iowa.
Off the track, Thomas seized victory in the women's long jump competition. The London, England, native recorded a personal best jump of 19-06.25 (5.95m), which ranks third all-time at Iowa and 11th in the Big Ten. Junior Kassidy Ellis claimed runner-up with a career best leap of 18-05.75 (5.63m).
Senior Lake Kwaza opened her day with the women's 60 meters. The senior tied her season best performance of 7.42 in the prelims and clocked 7.44 in the finals to finish fourth, overall. Sophomore Vinnie Saucer, Jr. claimed silver in the men's race with a career best 6.82. His time ranks 10th in school history and in the Big Ten. Junior James Harrington grabbed bronze in a personal best 6.86.
Sophomore Brittany Brown was crowned champion in the women's 200 meters, sprinting to the finish in a season best 23.93. That time lands fifth in the conference. Senior Lake Kwaza (24.36) came in third.
Junior Brendan Thompson crossed the 200-meter mark in 21.86 to finish fifth, while freshman Nicholas Aly grabbed a seventh-place finish, overall, with a personal best time of 22.18.
"It was great to see Kwaza compete near her personal best in the 60 meters and Brown looked more like herself today in the 200 meters," Woody said. "Saucer and Mallett have had some great practices these last few weeks and I knew it was just a matter of time before the meet performance would match up, and it did today."
Sophomore Elexis Guster clocked 53.99 to finish fourth, respectively, in the women's 400 meters. Junior Kaitlyn Nelson (56.93) and freshman Sheridan Champe (57.32) posted personal best marks to finish 10th and 11th, overall.
Senior Brennan Davey (47.85) recorded a second-place finish for the Hawkeyes in the men's 400 meters. Sophomore Jared Ganschow logged a fourth-place finish when he crossed the line in a season best 48.96.
Sophomore Katharina Trost (2:08.35/5th), junior MonTayla Holder (2:10.55/8th), and sophomore Mahnee Watts (2:11.62/10th) toed the line for the women's 800 meters.
"Even though they weren't personal bests, it was great to see Trost and Guster compete at a high level and back up their personal bests from last weekend," Woody said. "On the men's side, I was excited to see Davey put up a huge PR in the 400. He had one of his best 400 splits ever, both indoor and out, in the relay."
Junior Will Teubel grabbed the event title in the men's 800-meter race when he cruised to the finish in 1:49.65. Freshman Carter Lilly (1:51.40) and Ryan Dorman (1:54.80) recorded personal bests to finish 6th and 18th, respectively.
Thompson, Mallett, Davey, and Teubel joined forces in the men's 1,600-meter relay. The quartet raced to a third-place finish in 3:09.87. That time ranks fifth on the conference's top performers list.
"The men's 4×4 was a highlight for our team today," Woody said. "They set a goal of breaking 3:10 and they accomplished that today. It's been three years since we have run under that mark, and it feels good to see that entire 400-meter group moving in a positive direction."
The Hawkeyes return to action Feb. 27-28 for the Big Ten Indoor Championships at the Spire Institute in Geneva, Ohio.