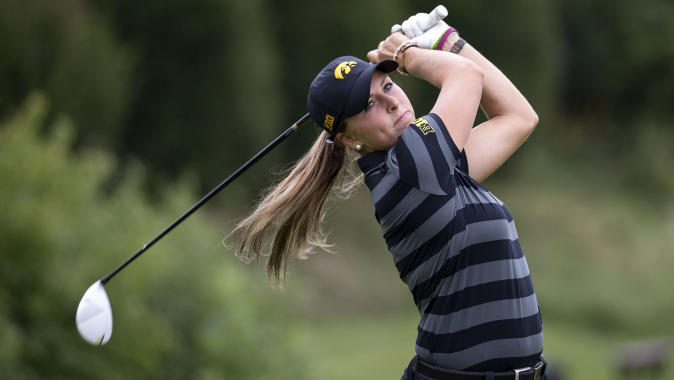 Feb. 22, 2015
PEORIA, Arizona — The University of Iowa women's golf team concluded day one competition at the Westbrook Spring Invitational at the Westbrook Village Golf Club on Sunday. After tallying a first round 298 (+10) the Hawkeyes sat in 12th place. The team improved on its first round score by firing in a second round 292 (+4) carding a two-round total 590 (+14). Iowa is in ninth, seven strokes behind the College of Charleston for eighth. Tennessee 568 (-8) leads the event followed by Oregon in second 573 (-3).
"The team played well today, although they all might feel as though they left a few shots on the course. We have gained some confidence as of late and we are looking forward to a strong finish tomorrow," said UI head coach Megan Menzel.
Junior Amy Ihm played well for the Hawkeyes, pacing the team with a two round 145 (+1). She stayed consistent on the opening day, registering rounds of 72 and 73 (+1). She is tied for 17th.
Freshmen Jessica Ip and Elisa Suarez carded the second and third best finishes for Iowa. Ip tallied a first round 77 (+5), birdieing holes eight, 11, and 13. She improved in the second round, posting a 71 (-1), birdieing holes 12, 15, and 17. Ip sits tied for 32nd with a two round 148 (+4). Ip's classmate Suarez finished one stroke behind her with a two round score of 149 (+5), posting round of 73 (+1) and 76 (+4). Suarez made par on 26 total holes leaving her tied for 45th.
Also tied for 45th is Shelby Phillips. The senior posted a two round total of 149 (+5), improving from round-to-round with scores of 76 (+4) and 73 (+1). Jessie Sindlinger carded a first round 78 (+6) before turning around and firing a second round 75 (+3). Sindlinger finished day one with a total 153 (+9). She is tied for 65th.
Briana Midkiff competing as an individual, registered a two round total of 156 (+12). She sits tied for 74th.
The final round of the Westbrook Spring Invitational will conclude on Monday. Live scoring is available via golfstat.com.