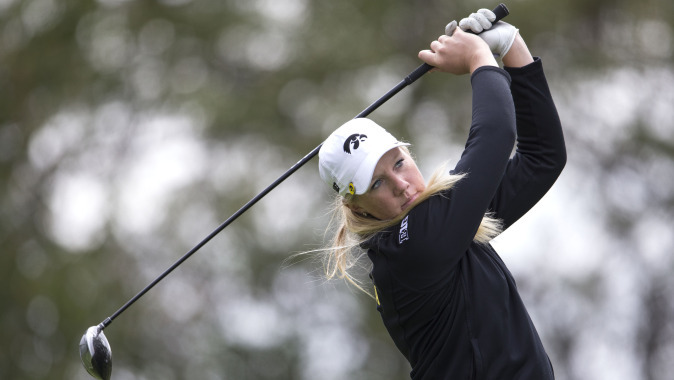 Feb. 23, 2015
PEORIA, Arizona — For the second straight year a member of the University of Iowa women's golf team etched her name in the Hawkeye record book at the Westbrook Spring Invitational. The Hawkeyes, led by junior Amy Ihm for the second consecutive competition and by a record tying performance by sophomore Jessie Sindlinger, completed their competition on Monday.
Sindlinger carded a career-low 68 (-4) in the third round. The sophomore's third round effort put her name in the Iowa record books, tying Kristi Cardwell and Tyrette Metzendorf for the second-lowest 18-hole score all-time. Sindlinger carded six birdies and made par on all but two holes in the final round. Sindlinger finished the tournament tied for 33rd with a three round total of 221 (+4), improving each round with scores of 78, 75, and 68.
"It was a good team effort this week. Amy had a great performance and Jessie's 68 today was a solid finish," said UI head coach Megan Menzel.
Iowa finished ninth out of 15 teams in Arizona. The Hawkeyes carded a three round total 882 (+18), with rounds of 298, 292 and 292. Iowa finished seven strokes behind Big Ten foe Illinois for eighth.
"The team had a productive week and made good progress on their games," added Menzel.
Ihm carded the best finish for the Hawkeyes for the second straight tournament, posting a three-round total of 218 (+2), staying consistent throughout with rounds of 72, 73, and 73. The junior managed par on 13 total holes in the third round while also birdieing holes 13 and 18. She ended the weekend tied for 22nd, two strokes off a top-20 finish.
Elisa Suarez tallied a 73 (+1) in the first round followed by a 76 (+4) in the second round, and a 75 (+3) in the third. She ended the weekend with a three-round 224 (+8). Her efforts resulted in tie for 48th. Jessica Ip also ended her weekend tied for 48th, carding a three-round total of 224 (+8), with rounds of 77, 71 and 76.
Shelby Phillips, who set a record of her own at last year's event, registered a three-round total 226 (+10), tallying rounds of 76, 73 and 77. Briana Midkiff rounded out the competition finishing with a total of 234 (+18).
Iowa has an extended break before it heads to St. George, Utah, to take part in the BYU Entrada Classic on March 16-17.