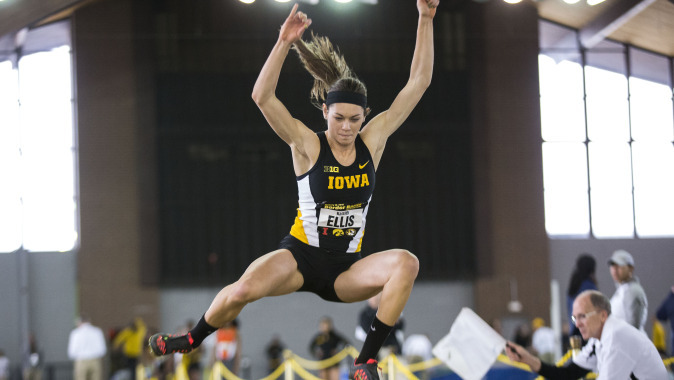 Feb. 27, 2015
Complete Results

GENEVA, Ohio — The University of Iowa track and field team claimed eight spots in the finals of the Big Ten Indoor Championships in Geneva, Ohio, on Friday.
"We had our ups and downs today," director of track and field Joey Woody said. "We sent a lot of our athletes to the finals who were expected to make it. There were also a few individuals who on paper weren't favored to make it to finals but did. Some of our athletes had PRs, but just missed making it to the finals. Now it's about continuing to build on what we accomplished today."
Sophomore Elexis Guster has a shot at the women's 400-meter title. The Atlanta, Georgia, native won her heat in 54.12 to earn a spot in the finals. She holds the second-fastest preliminary time heading into tomorrow's race.
Will Teubel was successful in the men's 800-meter prelims. The junior won his heat in 1:50.06 and advances to the final round as the top seed. Sophomore Katharina Trost narrowly missed qualifying for finals, finishing ninth in 2:09.86.
In the women's long jump competition, freshman Jahisha Thomas (19-07.00, 5.97m) and junior Kassidy Ellis (19-05.50, 5.93m) posted collegiate-best marks to finish sixth and eighth, respectively. Thomas' performance lands third on Iowa's all-time list, while Ellis' mark appears fifth.
Freshman Carter Lilly posted a personal-best time of 1:18.80 to make the finals in the men's 600 meters. That time ranks tenth on Iowa's all-time list.
In the women's race, MonTayla Holder raced to a first-place finish in her heat to automatically qualify for the event final. The Indianapolis, Indiana, native crossed the 600-meter line in 1:33.16. Sophomore Mahnee Watts posted a career-best time 1:32.07 to finish 12th, overall.
The Hawkeyes send a pair of athletes to the 60-meter dash final. Junior Lake Kwaza (7.46) qualified for the women, while sophomore Vinnie Saucer, Jr. (6.83) advanced for the men.
Senior Gabe Hull (18.03m) finished seventh in the men's shot put, while Avery Meyers (16.99m) grabbed a 15th-place finish, overall. Sophomore Alexa Hunt (13.52m; 16th) competed in the women's competition.
Junior James Harrington (21.31) advanced to the men's 200-meter finals, while sophomore Brittany Brown secured a spot in the women's race. She cruised to the heat win in a season-best 23.72, which is the second-fastest preliminary time. Junior Lake Kwaza also won her heat in a season-best 23.93 to finish ninth, overall.
"I'm excited going into tomorrow's race," Brown said. "I usually PR at Big Tens. Last year I got third and I'm just trying to improve on that."
Sophomore Marta Bote Gonzalez shattered her previous personal-best time in the women's 3,000 meters. She crossed the line in 9:36.69 to claim 11th-place finish, respectively. Senior Ben Witt (8:36.95) finished 19th in the men's race, while junior Daniel Huff finished fourth in the unseeded division running a collegiate-best 8:30.79.
Junior Michael Hart narrowly missed qualifying for finals in the men's mile. He posted a personal best time of 4:09.22 to finish 11th.
Iowa received a pair of personal-best performances from junior Mitch Wolff (47.66; 13th) and freshman Nicholas Aly (48.86; 21st) in the men's 400 meters.
The women's distance medley relay of sophomore Tess Wilberding (1200), Watts (400), Trost (800), and junior Anne Reischmann (mile) finished 10th in 11:46.05.
The Hawkeyes return to Big Ten action tomorrow with competition beginning at 9 a.m. (CT) inside the Spire Institute.