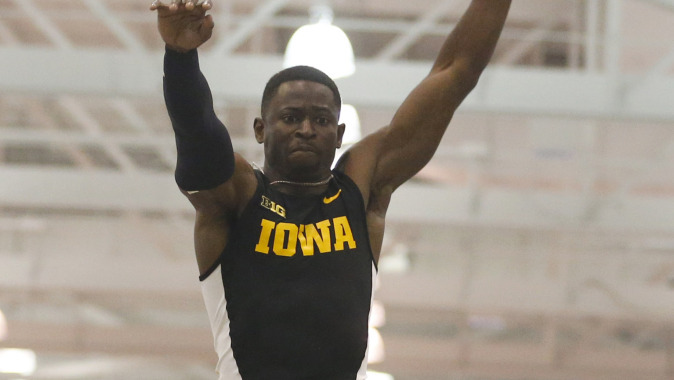 Feb. 27, 2015
By JORDAN BUCHER
IOWA CITY, Iowa — Senior Babatunde Amosu is on his final attempt. The reigning Big Ten triple jump champion is gearing up for round two at this weekend's indoor conference championships in Geneva, Ohio. If he keeps improving at his current rate, look out NCAAs.
"I want to leave as a legacy and set an example," said Amosu, a native of London. "Making nationals is a big goal for me, so I am hoping this weekend will be an opportunity to get a mark that will be good enough for me to make my first-ever indoor national team. Not only that, it's my senior year, and I want to defend my title."
If there is one thing more impressive than winning a Big Ten title, it's the fact that Amosu did so in extremely unlikely circumstances. Following a knee injury that held him up for nine months, Amosu made his season debut at the Big Ten Indoor Championships last year.
What's even more impressive still?
"We were forced to have him switch jumping legs heading into last year's championships," associate head coach Clive Roberts said. "Triple jump is a stressful event on the body, so it wasn't an option to have him jump on his lead leg anymore. Fortunately it worked out for us. He's a very talented kid and not many people could have accomplished what he did."
Although triple jump didn't come naturally for Amosu, it forced him to focus more on the finer details that eventually led to him mastering the technique.
"It was like learning to write with your opposite hand," Amosu said. "At first, it was the scariest thing to switch legs because I didn't know how it would turn out. In a way, I feel like everything has been a blessing in disguise from God."
Amosu continues to show improvement this season, most recently posting an indoor personal-best mark at the Tyson Invitational on Feb. 14. He leaped a distance of 51-11 3/4 (15.84m) — a mark that ranks fourth in school history, third in the Big Ten, and 21st in the nation.
"I was meant to be jumping off my other leg," Amosu said. "I feel a lot more coordinated right now, and I'm doing so much better than what I used to do on my other leg. It has been a huge confidence booster to know I still have it."
"He has been blessed by God," Roberts said. "All of the things he is capable of amaze me. Not only is he a good kid, but he has so much going for him from a talent standpoint. He comes every single day to work, and I'm blessed to have him."
The 2015 Big Ten Indoor Championships kick off Friday at 9 a.m. (CT) and continue into Saturday. The championships will be televised on BTN on Sunday, March 8.
"The goal of the team is to go there and show everybody what the Hawkeyes are capable of," Amosu said. "From the jumps group, Kerry Dean Jr., Klyvens Delaunay, and myself, have had a solid build-up to this point, and I have a feeling we will do some amazing things."