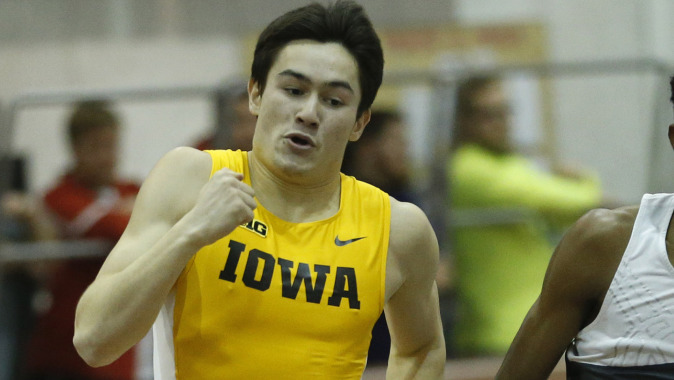 March 9, 2015
Editor's Note: The following first appeared in the University of Iowa's Hawk Talk Daily, an e-newsletter that offers a daily look at the Iowa Hawkeyes, delivered free each morning to thousands of fans of the Hawkeyes worldwide. To receive daily news from the Iowa Hawkeyes, sign up HERE.
By CHRIS BREWER
hawkeyesports.com
IOWA CITY, Iowa — Pay attention young track and field athletes, a University of Iowa freshman has a secret to share.
The path from high school, to Division I walk-on, to the Big Ten Track and Field Championships isn't as complicated as you may think.
"I just focus on getting better every day."
Those are the words of Carter Lilly, spoken three days after running into the Iowa record books at the 2015 Big Ten Track and Field Championships.
A freshman walk-on from Sioux City, Iowa, Lilly ended his rookie indoor season at the conference championships with a fifth-place finish in the 600 meters. He ran the race in 1:18.37, the best time by a Hawkeye this season and the sixth-fastest time in program history.
"He's just been a competitor," said UI director of track and field Joey Woody. "Every time he gets in a race he competes to win. As long as you're doing that it doesn't matter who you are. You're going to have a lot of success."
Woody started recruiting Lilly from Sioux City East High School early last year after a junior season that showed promise.
"He had run 1:54 as a junior, which is a really good junior mark. So at the time I said we'll recruit you as a walk-on athlete."
About four months later Woody's intuition, as it has many times before, steered him right. Lilly trimmed three seconds from his time and placed second in the 800 meters at the state championships.
"He ran 1:51 and showed a lot of improvement," said Woody. "It wasn't like he was running 1:51 every week, but it shows what type of competitor he is."
For Lilly's part, the physical improvements were a credit to his mental stability. A three-sport athlete in high school — football, basketball, and track — Lilly says he has always been a competitor, and as a result he has naturally become a "tough runner."
"Every time you step on the track you have to have that competitive desire," Lilly said. "You have to have a chip on your shoulder that I want to be the best out there."
Woody compares Lilly's potential to two former Hawkeyes who entered campus with little fanfare but left with multiple All-America honors.
Steven Willey, a walk-on from Onawa, Iowa, crept onto the scene in 2008 and ran the lead leg on the 1,600-meter relay that placed fourth at the conference meet. By 2011, he was the anchor leg on the same relay that placed fourth at nationals.
"Willey is a guy that comes to mind," said Woody. "He was always competing to win and he was always finishing strong in his races."
Another example — a name that doesn't get thrown around the Woody camp without careful consideration — is Erik Sowinski, a former Hawkeye All-American and United States indoor record holder in the 600 meters.
"I don't want to put that kind of pressure on Carter, but he has some great attributes," said Woody. "He has great speed like Erik. Erik ran 1:54 in high school, and Carter already has run faster than Erik did in the 600 as a freshman, so he's putting together a really good campaign right now."
Lilly will transition to the 800 meters and compete for a spot on the 1,600-meter relay when the outdoor season opens March 20 in Tempe, Arizona. He wants to break into the 1:49 territory in the 800 meters, a time that would rank among school record holders.
Woody says he has the mindset to do it.
"The key is to take that energy and where he is at right now and continue to build on that," said Woody. "He's one of those guys that is going to go out and give it his all."