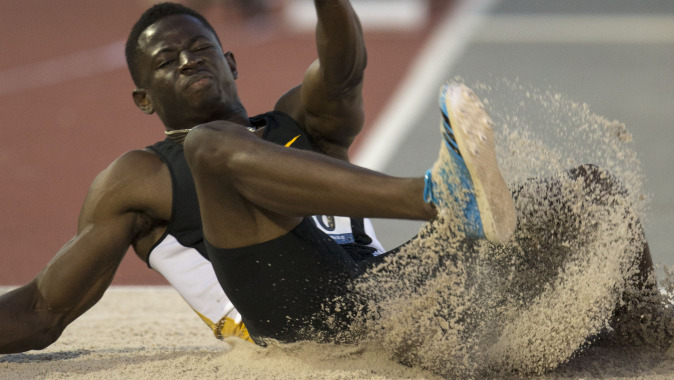 March 10, 2015
IOWA CITY, Iowa — University of Iowa student-athletes Babatunde Amosu, Kevin Lewis, and Aaron Mallett compete at the NCAA Division I Indoor Track and Field Championships on Friday and Saturday in Fayetteville, Arkansas.
All three Hawkeyes are making their first career appearances at the NCAA Indoor Championships.
Amosu is the 11th seed in the men's triple jump. He hit his qualifying mark on his final jump of the Big Ten Championships, landing at 52-8 ¾ (16.07m). A two-time Big Ten indoor champion, Amosu was an outdoor All-American in the triple jump in 2014. The men's triple jump begins Saturday at 6 p.m. (CT).
Lewis is the 10th seed in the men's 5,000 meters with a time of 13:43.70. The men's 5,000 meters begins Friday at 8:45 p.m.
Mallett ran 7.78 at the Big Ten Championships to earn the 14th seed in the 60-meter hurdles. The preliminary race begins Friday at 6:45 p.m. The finals are Saturday at 6:30 p.m.
ESPN3.com will stream the meet live on March 13 and 14 at 6 p.m. (CT). A tape delay of the championship will air March 23 at 6 p.m. on ESPNU.
Live Results are available at NCAA.com.