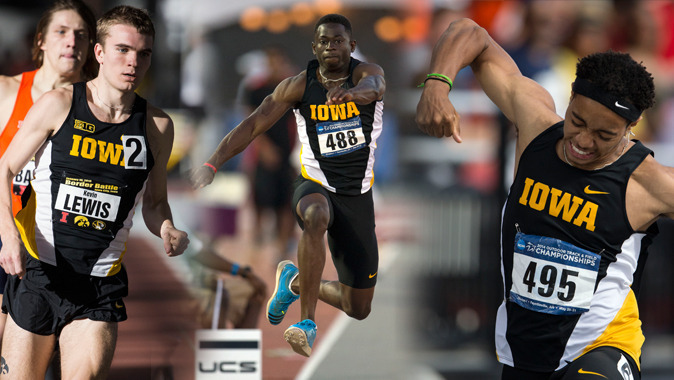 March 13, 2015
FAYETTEVILLE, Arkansas — University of Iowa sophomore Aaron Mallett placed seventh overall on Friday to advance to the finals in the 60-meter hurdles at the 2015 NCAA Indoor Championships.
Mallett finished third in the opening heat in 7.79, one one-hundredth of a second off his personal best.
"I just went out and ran my race," said Mallett. "The goal today was to make the finals. I wanted to relax, stay in my lane, stay clean, and execute. I knew the hurdles would come quick and they did."
Mallett's time was the seventh fastest among the two heats and guaranteed him first-team All-America honors. He will compete for a national title Saturday at 6:30 p.m. (CT).
"I'm ready to run tomorrow," he said. "I just need to run my race with no regrets."
Iowa senior Kevin Lewis earned second-team All-America honors Friday with a 16th place finish in the 5,000 meters. Lewis finished in 14:22.92.
Senior Babatunde Amosu joins Mallett on the track Saturday in the triple jump. Amosu, the two-time defending Big Ten triple jump champion, competes at 6 p.m.