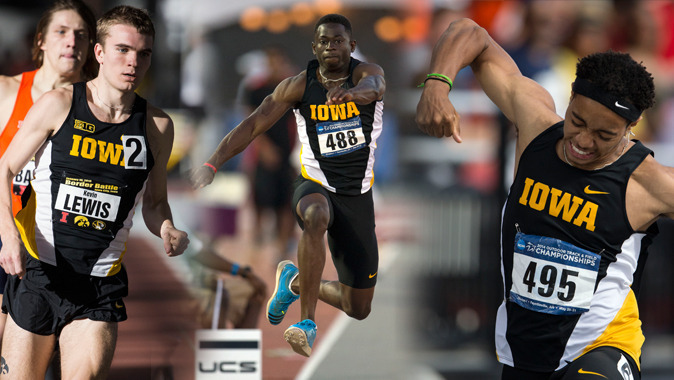 March 13, 2015
Editor's Note: The following first appeared in the University of Iowa's Hawk Talk Daily, an e-newsletter that offers a daily look at the Iowa Hawkeyes, delivered free each morning to thousands of fans of the Hawkeyes worldwide. To receive daily news from the Iowa Hawkeyes, sign up HERE.
By JORDAN BUCHER
hawkeyesports.com
IOWA CITY, Iowa — The curtain has closed on this year's Big Ten stage and a new one opens this weekend as the University of Iowa track and field team sends three student-athletes to compete in the national spotlight.
Seniors Babatunde Amosu and Kevin Lewis, and sophomore Aaron Mallett continue their quests for national titles when the NCAA Indoor Championships begin Friday in Fayetteville, Arkansas.
"This is a unique opportunity for those three to go and compete at that level," said UI director of track and field Joey Woody. "Too often I think we get caught up in how everyone else is doing. The biggest thing for them is to focus on themselves and to keep doing what they've been doing."
As simple as it sounds, that strategy seems to be working for Mallett. The St. Louis native locked in a second-place finish in the men's 60-meter hurdles at the Big Ten Championships with a personal-best 7.78 to secure the 14th spot at the national meet. He hopes to carry that momentum into this weekend.
"I feel like I am peaking at the perfect time and that excites me," Mallett said. "Yeah, I'm going against the best in the country, but that only makes for intense competition and PRs. I feel that the pressure is off my shoulders because I've done all the hard work already. Now I just have to compose myself, not get caught up in overthinking and just execute everything I've been doing in practice. If I do that, I'll be an All-American representing the Hawkeyes."
Amosu, a two-time Big Ten champion and outdoor All-American, is looking to add to his All-America status in the men's triple jump. The London native enters the weekend seeded 11th after he landed a qualifying mark of 52-feet, 8 3/4 inches (16.07m) at the conference championships.
"Winning the Big Ten title has given me a lot of confidence," Amosu said. "To qualify for my first indoor national meet with a personal best is truly spectacular. If I carry the fire I had on the runway from Ohio to Arkansas, it will only result in a better performance."
Lewis heads into the weekend as the 10th seed in the men's 5,000 meters. He hit his qualifying mark of 13:43.70 at the Iowa State Classic on Feb. 14. Following a 15th-place finish at the Big Ten Championships, the Ottumwa, Iowa, native has a strategy of his own.
"I'm expecting it to be a tough race," Lewis said. "Just about everyone in the race has been an All-American in either track, cross country, or both. I want to use my best racing strategy of slowly moving up through the pack in the last half of the race and try to beat as many people as I can. I want to leave everything on the track."
ESPN3 will stream the meet live on March 13-14 starting at 6 p.m. (CT). A tape delay of the championship will air March 23 starting at 6 p.m. on ESPNU.
"I've been working so hard to grasp this opportunity and now it's here," Mallett said. "I'm ready to get after it."