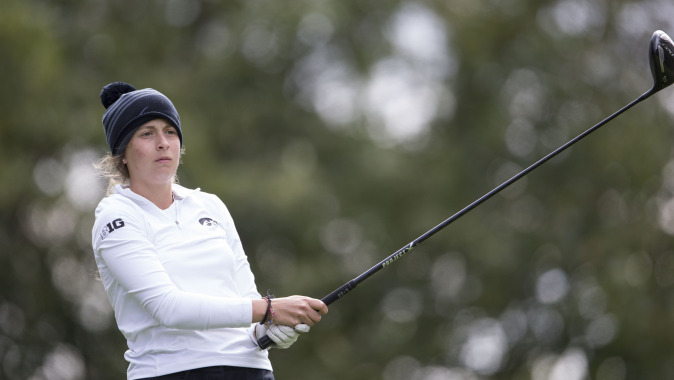 March 16, 2015
Day One Results

ST. GEORGE, Utah — Led by freshman Elisa Suarez the University of Iowa women's golf team concluded day one at the BYU Entrada Classic on Monday. The Hawkeyes registered a two round total of 596 (+20) including rounds of 299 and 297. With one round left on Tuesday, Iowa sits in 6th six strokes behind San Francisco and Boise State tied for 4th, the University of California 568 (-8) leads the event.
Suarez paced the team with a two round total of 148 (+4). She improved from round-to-round on opening day, registering rounds of 75 (+3) and 73 (+1). Suarez birdied eight total holes out of 36 she is tied for 16th.
Amy Ihm tallied the second best score for the Hawkeyes with a two round total of 149 (+5) finishing day one, right behind Suarez. Ihm carded a first round 75 (+3), birdieing hole one and making par on 13 total holes. She improved by one stroke in round two posting a 74 (+2), Ihm eagled hole one and made par on 14 total holes. She sits tied for 22nd.
Jessie Sindlinger was not far off from the two top Hawkeye finishers, carding a two round 150 (+6) with rounds of 75 and 75. Sindlinger made par on 24 total holes while birdieing three more. She ends the day tied for 26th.
Shelby Phillips tallied a round one score of 74 (+2) before a second round 82 (+10). Freshman Jessica Ip finished day one with a two round total 158 (+14), improving from round-to-round with scores of 83 (+11) and 75 (+3).
Briana Midkiff competing as an individual, registered a two round total of 165 (+21). She sits tied for 71st.
The final round of the BYU Entrada Classic will conclude on Tuesday. Live scoring is available via golfstat.com.