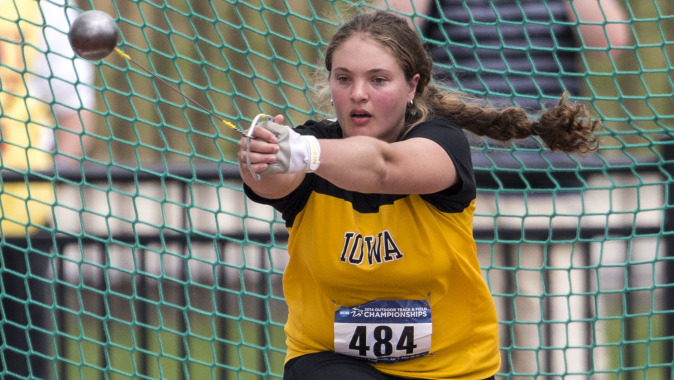 March 17, 2015
Weekly Release

THIS WEEK
The University of Iowa track and field team opens the 2015 outdoor season at the Baldy Castillo Invite on Friday and Saturday in Tempe, Arizona. The event begins Friday at 3 p.m. (CT) on the campus of Arizona State.
LIVE RESULTS
Live results are available on the track and field schedule page at hawkeyesports.com.
FOLLOW THE HAWKEYES
Follow @IowaXC_TF on twitter for updates on the team.
THE COMPETITION
Iowa will face competitors from Arizona State, Illinois (Women), Iowa, Iowa State, Minnesota (Men), North Dakota State, Oklahoma, South Dakota, Texas A&M, UC Irvine, and Washington this weekend.
RETURNING OUTDOOR ALL-AMERICANS
The men's roster features five returning All-Americans from last outdoor season, including sophomore O'Shea Wilson (4×100), juniors Babatunde Amosu (triple jump) and James Harrington (4×100), and seniors Gabe Hull (discus) and Keith Brown (4×100).
Amosu concluded the 2014 outdoor season with a 13th-place finish in the triple jump (51-11 ¾, 15.84m) at the NCAA Championships to earn second-team All-America accolades.
Senior Gabe Hull earned second-team All-America honors following an 11th-place finish in the discus last year.
Wilson, Harrington, and Brown each competed on the school record-setting 400-meter relay (39.19) that finished sixth at the NCAA meet.
The women's team welcomes back every member of the 400-meter relay that placed 16th at the 2014 NCAA Championships — juniors Lake Kwaza and MonTayla Holder, and sophomores Elexis Guster and Brittany Brown. Brown added second-team All-America honors with a school record-setting performance in the 200 meters (22.95) to finish 11th overall.
RETURNING OUTDOOR ALL-BIG TEN PERFORMERS
First team Big Ten honors were awarded to high jump champion Khanishah Williams, 400-meter champion Elexis Guster, and the men and women's 400-meter championship relays. Five more Hawkeyes were named to the All-Big Ten second-team list following runner-up finishes. They include Klyvens Delaunay (triple jump), Gabe Hull (discus), Sam Joens (javelin), and Kevin Spejcher (high jump).
HAVING A FIELD DAY
Senior Annemie Smith captured the school record in the hammer throw at last year's Arizona State Invite. The George, South Africa, native won the event in 198-1 (60.38m). Senior Gabe Hull holds the discus school record at 207-1 (63.11m), which he notched at last year's Musco Twilight.
2015 INDOOR WRAP-UP
Sophomore Aaron Mallett earned first-team All-America honors in the men's 60-meter hurdles at the NCAA Indoor Championships in Fayetteville, Arkansas, on March 14. He raced to a sixth-place finish in 7.79, while seniors Kevin Lewis and Babatunde Amosu received second-team All-America accolades. Lewis (14:22.92) finished 16th in the 5,000 meters, while Amosu (49-10 ½, 15.20m), a two-time indoor Big Ten champion, delivered a 15th-place finish in the triple jump.
HAWKEYES AT HOME
The Hawkeyes will host the 16th annual Musco Twilight on May 2nd. The event will be held at the Francis X. Cretzmeyer Track and televised on BTN.
CHAMPIONSHIP SEASON
The 2015 Big Ten Outdoor Championships will be held in East Lansing, Michigan, from May 15-17. The NCAA Regionals are set for May 28-30 in Austin, Texas, while the NCAA Championships will be held in Eugene, Oregon, from June 10-13.
DIRECTOR OF TRACK AND FIELD Joey Woody
Joey Woody is in his first season as Director of Track and Field for the University of Iowa. Woody served as the associate head track and field coach for two seasons and served as assistant coach and director of sprint and hurdle events for the Hawkeyes since 2006.
NEXT ON THE BLOCK
Iowa will split competitors for the Florida Relays in Gainesville, Florida, and the Stanford Invitational in Palo Alto, California, from April 3-4.