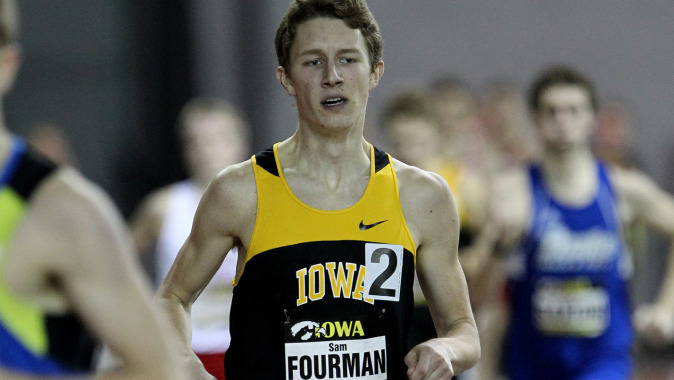 March 20, 2015
Full Results Day 1

TEMPE, Arizona — University of Iowa track and field senior Annemie Smith opened the outdoor season with a second-place finish in the women's hammer throw during day one of competition Friday at the Baldy Castillo Invite in Tempe, Arizona. The George, South Africa, native threw a distance of 197-09 feet (60.28m) on her second attempt. She became the school-record holder at this meet last year with a winning toss of 60.38 meters.
"It was a fantastic day for Annemie," assistant throws coach Andrew Dubs said. "After missing five months due to injury and then to throw over 60 meters is just outstanding. Not only is that a great performance, but she had the best series of her life. Four total throws over 59 meters proves that she is a gamer and a high level competitor."
Also in the hammer throw was freshman Leah Colbert, who recorded a toss of 160-06 feet (48.92m) to land 20th, respectively.
On the track, 12 Hawkeyes toed the start line for the 1,500 meters. Sophomore Katharina Trost led Iowa in the women's race with a ninth-place finish, overall. The Piding, Germany, native clocked a personal best 4:29.10. Sophomore Marta Bote Gonzalez (13th; 4:32.79), juniors Lisa Gordon (15th; 4:33.98) and Anne Reischmann (21st; 4:37.60), and senior Shannon Maser (24th; 4:41.95) rounded out the field for the Hawkeyes.
Senior Sam Fourman was Iowa's top finisher in the men's race, crossing the 1,500-meter mark in 3:50.22 to claim 15th-place, respectively. Senior Ben Witt (18th; 3:50.74) and junior Michael Hart (24th; 3:52.25) recorded personal best performances on the evening. Freshman Michael Melchert (30th; 3:54.63), junior Daniel Huff (31st; 3:54.73), freshman Daniel Gardarsson (37th; 3:56.85), and sophomore Ben Anderson (38th; 3:58.85) also competed for the Hawkeyes.
Iowa resumes competition tomorrow at 11 a.m. (CT) inside the Sun Devil Stadium on the campus of Arizona State.