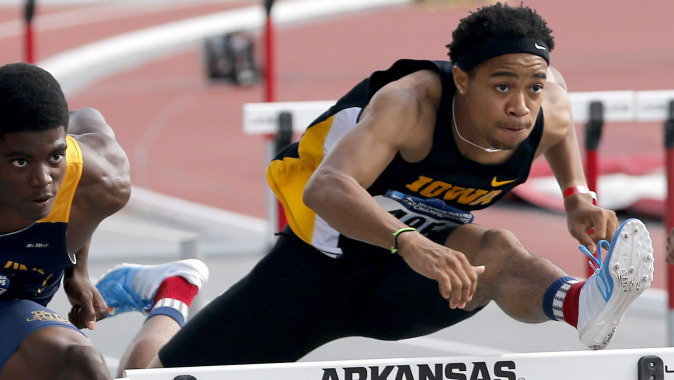 March 25, 2015
IOWA CITY, Iowa — University of Iowa sophomore Aaron Mallet has been named Big Ten Track Athlete of the Week following a first-place finish at the Baldy Castillo Invite in Tempe, Arizona last weekend.
Mallett, a native of St. Louis, won the 110-meter hurdles in a personal best 13.85, a time that ranks third in the nation and sixth on Iowa's all-time list, and ran the anchor leg of Iowa's 400-meter relay that placed second. He teamed with sophomore Vinnie Saucer, Jr., and juniors Brendan Thompson and James Harrington. The relay's time of 40.07 ranks fifth nationally.
The weekly conference award is the first of Mallett's career.
Iowa splits competitors for the Florida Relays in Gainesville, Florida, and the Stanford Invitational in Palo Alto, California, from April 3-4.