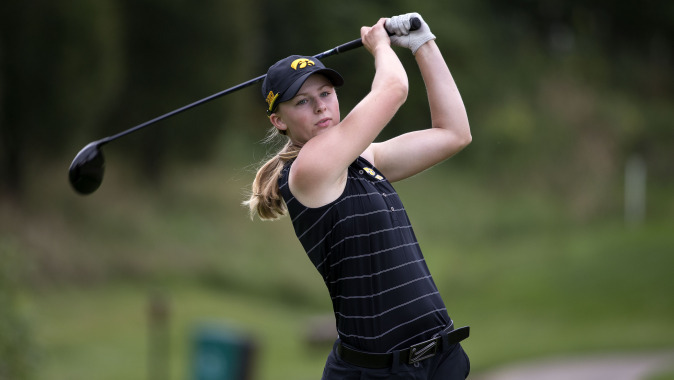 March 30, 2015
Final Results

CARBONDALE, Illinois — Morgan Kukla, Jessie Jordan and Nicole Rae, competing as individuals for the University of Iowa women's golf team, completed action at the Saluki Invitational on Monday with two golfers in the top 10.
Kukla registered a second round 78 (+6). Improving one stroke from the first round, she tallied a two-round total of 157 (+13). The freshman finished the competition tied for fourth place overall in the field of 62, seven strokes off the leader.
Jordan tallied a second round 77 (+5). She jumped eight spots from day one to finish tied for ninth, with a two-round total 161 (+17).
"I was really happy to see Morgan have a good tournament with it being only her second event as a Hawkeye. I was also happy to see Jessie have a good round and finish in the top 10," said UI assistant coach Todd Selders.
Nicole Rae rounded out the action for Iowa. The senior carded a two round total 169 (+25), posting rounds of 85 and 84. She finished tied for 27th.
"I'm proud of all three for getting out on the course and competing well," added Selders.
The Hawkeyes have a break in competition before they head to Columbus, Ohio to take part in the Lady Buckeye Invitational on April 18-19.