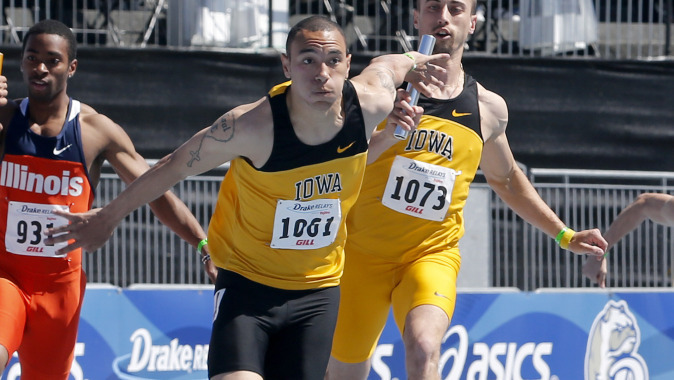 April 2, 2015
Editor's Note: The following first appeared in the University of Iowa's Hawk Talk Daily, an e-newsletter that offers a daily look at the Iowa Hawkeyes, delivered free each morning to thousands of fans of the Hawkeyes worldwide. To receive daily news from the Iowa Hawkeyes, sign up HERE.
By CHRIS BREWER
hawkeyesports.com
IOWA CITY, Iowa — James Harrington is running the third leg of his track and field career, and he's not ready for a handoff.
Harrington, a junior sprinter from Cedar Falls, Iowa, made his way to Iowa City through the University the Alabama and Cedar Falls High School.
The top prep sprinter in the state of Iowa in 2012, Harrington heard SEC bells ringing after winning four state titles for Cedar Falls. He won the open 100 and 200 meters, and anchored the 400 and 800 meter relays before collecting all-state honors and packing his bags for Tuscaloosa, Alabama.
"I went on four official visits — Iowa, Wisconsin, Oklahoma, and Alabama — and I liked it there the most," Harrington said. "I liked their facilities, the weather was nice, and I just liked the team and the athletes on the team. That's what drew me to Alabama."
Harrington saw limited action in his only season at Alabama, but among the few races he was healthy enough to compete, one was the Drake Relays.
"I just missed Iowa. I'm from Iowa, where my family was able to come to all my track meets and support me, and I didn't have that anymore," he said.
"I went to Drake and I just missed that atmosphere. Knowing everybody, being a part of the history. I missed that."
Harrington could have returned all the way home. The University of Northern Iowa sits in his hometown's back yard, and both of his parents are former Panther athletes. His father played football and his mother played basketball at Northern Iowa.
"I never considered that," he said. "In high school I developed a relationship with coach (Joey) Woody, and I wanted to run for him. I wanted to run at the highest level."
Woody says Harrington was on Iowa's radar during the initial recruiting process, and after hearing from the Alabama coaches that the Iowa native was considering a change of scenery, he jumped back into the conversation.
"James and his dad contacted me, and I had communicated with his coaches, and the feeling was he would probably fit better coming closer to home," Woody said.
Woody was excited about the possibility of adding Harrington to Iowa's roster, but in the world of track and field you pay for performance, and Woody needed to free up scholarship money.
"That was the biggest obstacle," Woody said, "but more importantly he was willing to come and be a part of our program. He started with some ups and downs but things are starting to turn over for him."
In his first year on campus, Harrington battled illness and injury during most of the indoor and outdoor season. But by the end of the year, he was healthy and running the third leg of the Big Ten championship and All-America 400-meter relay — a team that set a school record while placing sixth in 39.19 at the 2015 NCAA Outdoor Championships.
He says the experience provided both motivation and perspective heading into this junior season.
"That gave me a chance to see the end result," said Harrington, who set a personal record in the 200 meters at the first and only outdoor event of this season. "With the workouts every day and the handoffs, it helps me see what is at the end and what the prize is."
Woody says Harrington has found the right fit and a comfort level that has allowed him to get better each week.
"We're excited to see what the next meet holds," Woody said. "He needs to keep his head on straight and stay focused on himself. Every time he puts his foot on the line he is trying to put his best performances out there and he continues to progress."