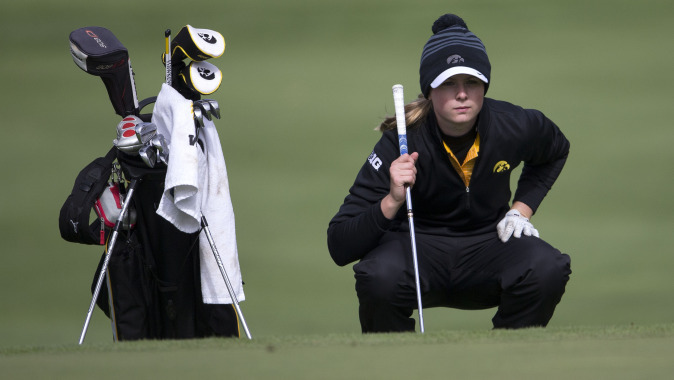 April 2, 2015
Q: What is it like working with coach Menzel and coach Selders?
A: Both Coach Menzel and Coach Selders encourage us to try new shots at many different places around the greens. They continue to help us improve our short game. They are both extremely knowledgeable about the game of golf and they love to challenge us.
Q: What led to you to Iowa City and the Hawkeye golf program?
A: The campus, great academic programs, golf facilities, coaches and all of the Big 10 sports.
Q: What facet of your game has improved the most since last spring?
A: Accuracy with all of my clubs. I am hitting more fairways, greens and converting more up and downs.
Q: What are the team goals for the spring season?
A: Our team goals are to place in the top half or above in each tournament and to be in the top 5 teams at the Big 10 Championships.
Q: What did you do over the winter break?
A: I worked a lot on my golf game, hung out with my friends and watched Netflix.
Q: What was your favorite golf memory growing up?
A: My favorite golf memory was last year at Sectionals when I made a 30 foot birdie putt on the first play-off hole to go to state for the second time.
Q: What was the last movie you saw in theaters and what did you think of it?
A: The last movie I saw in theaters was Interstellar. I really enjoyed the movie because I love physics and the concept of time relativity.
Q: What do you like to do in your free time?
A: I love to read books, watch movies with my mom and hang out with my friends.
Q: What is your favorite home-cooked meal when you go home and why?
A: My favorite home cooked meal is my mom's chili beef stir fry. It's really spicy and has steak in it so you can't go wrong.
Q: What is your favorite Hawkeye memory so far?
A: My favorite Hawkeye memory so far is when I got to play golf in the middle of December with a few of my teammates.
The Hawkeyes return to action on April 18-19 to take part in the Lady Buckeye Invitational in Columbus, Ohio.