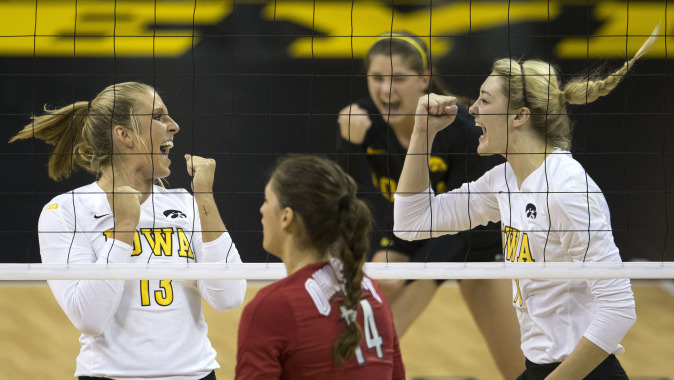 April 3, 2015
IOWA CITY, Iowa — The University of Iowa volleyball program kicks off its spring season with a match at Northwestern on Saturday, April 4. The contest is set to begin at 6 p.m. (CT) in Evanston, Illinois.
After two days off, the Hawkeyes challenge Iowa Corn Cy-Hawk Series rival Iowa State inside Carver-Hawkeye Arena on Tuesday, April 7 at 6 p.m.
"Tuesday is fun for us because it's Iowa State and it's a good rivalry," Shymansky said. "It should be really great volleyball. We're looking to do the same thing that Iowa State is, which is improve. You want to spend the entire spring season getting better and better. It will be a good chance for Hawkeye fans to come in and see the improvements and changes we're making as our program keeps growing."
The match is open to the public, giving the fans their first look at the 2015 roster. Joining the eight returners from the 2014 squad are two transfers — middle/right side hitter Ashley Mariani and setter Loxley Keala. Both players began practicing with the team this semester and will have two years of eligibility remaining.
"We have a couple new players who are doing a great job contributing in our starting lineup and it will be fun to watch them adapt, connect with their teammates, and develop in our program," Shymansky said. "Some of our returning players are changing positions and growing in terms of their roles on the team. They're transitioning into a go-to hitter or passer.
"That kind of experience for them throughout the course of the spring season will only benefit them in the long run and we're really looking forward to it."
The Hawkeyes travel to play in a tournament hosted by UNI on April 11, before closing their spring schedule with a match against Drake at home on April 18.
"Spring is a fun time for our group to get a lot of extra training, but also stretch and push their boundaries in the skill sets and roles that they play," Shymansky said. "We have a lot of people who are getting a broader experience than they've gotten in the past. We've watched some players rise and grow in areas that we didn't know they would be good at. Creating that window of opportunity is enough to get a glimpse of what they can become as a player."