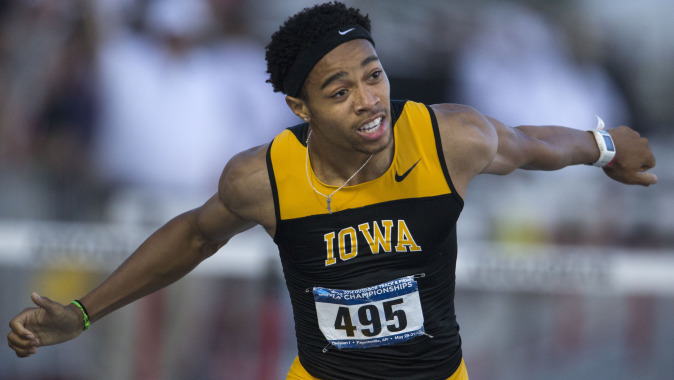 April 3, 2015
Final Results (Running Events)

| Final Results (Field Events)

GAINESVILLE, Fla. — University of Iowa track and field sophomore Aaron Mallett recorded two career bests during day one of competition at the Florida Relays in Gainesville, Florida, on Friday. The event was held at the Percy Beard Track inside the James G. Pressly Stadium on the University of Florida campus.
Mallett continued his ascent on the national leaderboard and Iowa's all-time list in the men's 110-meter hurdles when he clocked 13.60, a time that ranks second on both. He gathered a seventh-place finish and was the first collegian to cross the finish line. Mallett returned to the track for the 400-meter hurdles when he raced to a personal-best 51.56 to finish 16th, respectively.
"We had great performances today, and it was highlighted by Aaron's 110-meter hurdle performance that landed him second in the nation," director of track and field Joey Woody said.
Junior MonTayla Holder had a strong showing in the women's 400-meter hurdles when she clocked a season-best 58.29 to finish ninth, overall.
Junior Sam Fourman gathered a sixth-place finish in the men's 1,500 meters, setting a collegiate-best 3:46.48, which ranks fifth in school history. Freshman Alana Jones (18th; 4:30.87) also posted a personal-best mark in the women's race.
Junior Dakotah Goodell (159-02 feet, 48.52m) led the Hawkeyes in the field events, collecting a ninth-place finish in the women's discus throw. Freshmen Kayla Hochhalter and Leah Colbert logged career-best performances and moved to eighth on Iowa's all-time list in their respective events. Hochhalter (148-02 ft., 45.16m) placed 10th in the javelin throw, while Colbert (162-07 ft., 49.56m) landed 15th in the hammer throw.
Freshman Jahisha Thomas notched an 11th-place finish in the women's long jump with a personal-best 19-01.25 feet (5.82m). That mark stands 10th on Iowa's top performance list. The London native also appeared in the 100-meter hurdles (29th; 13.83).
Sophomore Avery Meyers (14th) hurled the discus to a season-best 158-04 feet (48.25m), while junior Sam Joens claimed 10th in the men's javelin with a season-best 201-06 feet (61.41m).
Junior James Harrington threatened his collegiate-best time of 20.98 in the men's 200 meters, which he set two weeks ago at the Baldy Castillo Invite in Tempe, Arizona, when he finished 19th in 21.05. Sophomore Brittany Brown (23.32) notched a 13th-place finish in the women's contest.
Sophomore Elexis Guster made her season debut in the 400 meters. The Atlanta, Georgia, native clocked 53.91 to place 29th, respectively. In the men's race, junior Brendan Thompson (58th; 49.00), freshman Nicholas Aly (60th; 49.16), and sophomore Jared Ganschow (61st; 49.24) finished in a tight pack for the Hawkeyes.
In the women's 100 meters, Brown (30th) cruised to the finish in 11.70, while sophomore Vinnie Saucer, Jr. (48th; 10.76) was Iowa's top finisher in the men's race.
The Hawkeyes had five student-athletes compete in the 800 meters. Junior Will Teubel (1:49.99) led Iowa in the men's race with a 24th-place finish followed by freshmen Carter Lilly (33rd; 1:50.81) and Ryan Dorman (57th; 1:54.74). Sophomore Katharina Trost (22nd; 2:10.63) and junior Kaitlyn Nelson (33rd; 2:12.13) rounded out the women's field for the Hawkeyes.
Iowa wrapped up the day with an 11th-place finish from sophomore Ben Anderson (14:36.63) in the men's 5,000 meters.
The Hawkeyes resume competition Saturday beginning with field events at 9 a.m. (CT), followed by running events at 12:40 p.m.