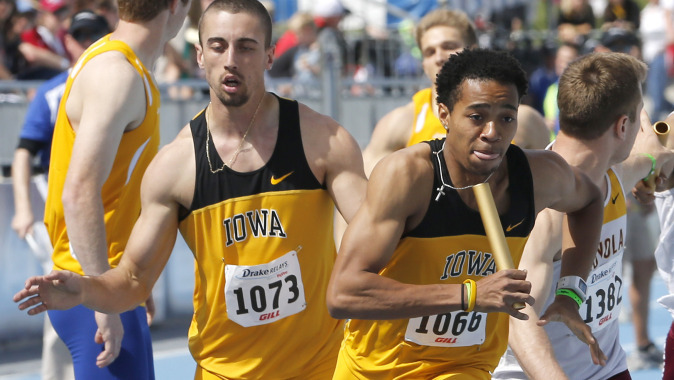 April 6, 2015
IOWA CITY, Iowa — The University of Iowa men's track and field team debuted at No. 25 in the U.S. Track & Field and Cross Country Coaches Association (USTFCCCA) Top 25 Division I National Team Computer Rankings released Monday.
The Hawkeyes were unranked when the preseason poll was announced March 24, but have since climbed eight spots following nationally-ranked individual performances at the Baldy Castillo Invitational, Florida Relays, and Stanford Invitational.
Aaron Mallett ranks second in the nation in the 110-meter hurdles following a career-best time of 13.60 at the Florida Relays. He added a second personal record in the 400-meter hurdles, finishing in 51.56 for a time that ranks 20th nationally.
Mallett also anchors Iowa's top 400-meter relay. Vinnie Saucer, Jr., Brendan Thompson, James Harrington, and Mallett ran 40.07 at the Baldy Castillo Invitational and rank No. 15 in the country. Harrington hit an individual personal best at the same meet, running the 200 meters in 20.98, a time that ranks 21st in the nation.
Kevin Lewis set a personal-record in the 10,000 meters at the Stanford Invitational, finishing in 28:59.62 to rank 19th nationally.
The Hawkeyes are back in action April 17-18 at the Mt. Sac Relays. Iowa returns home to compete at the Drake Relays on April 23-25, and host the Musco Twilight XVI on Saturday, May 2.