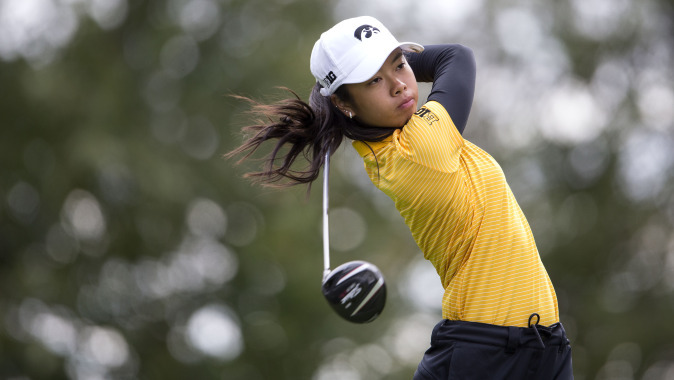 April 8, 2015
Q: What is it like working with coach Menzel and coach Selders?
A: Coach Menzel is constantly supportive. She is good at giving feedback in order to help better my game. I know I need to work on my short game and she has helped me enhance that aspect. She emphasizes the idea of knowing success and this has encouraged me to experience that success. Todd is equally as supportive and he understands which drills help strengthen particular parts of my game.
Q: What led to you to Iowa City and the Hawkeye golf program?
A: I liked the team chemistry that I saw when I came on my visit and the facility really impressed me. The coaching staff was also a persuading factor.
Q: What facet of your game has improved the most since last spring?
A: My wedge game has improved and I feel more comfortable getting up and down from around the green.
Q: What are the team goals for the spring season?
A: Our team goals are to climb up the rankings and to have a lower average team score.
Q: What did you do over the winter break?
A: Over the break I went to an indoor practice facility and worked on my tempo. I also fixed the weak parts of my swing.
Q: What was your favorite golf memory growing up?
A: Playing rounds of golf in the evening with my family.
Q: What was the last movie you saw in theaters and what did you think of it?
A: Interstellar. It was pretty mind-blowing, I cried three times.
Q: What do you like to do in your free time?
A: Play video games, read, nap, and catch up on TV shows.
Q: What is your favorite home-cooked meal when you go home and why?
A: Anything my mom makes, being in Iowa makes me miss Asian cuisine. There aren't that many Asian restaurants in Iowa City.
Q: What is your favorite Hawkeye memory so far?
A: Traveling to tournaments with the team and having collective success, proving our hard work is leading us in the right direction.
The Hawkeyes return to action on April 18-19 to take part in the Lady Buckeye Invitational in Columbus, Ohio.