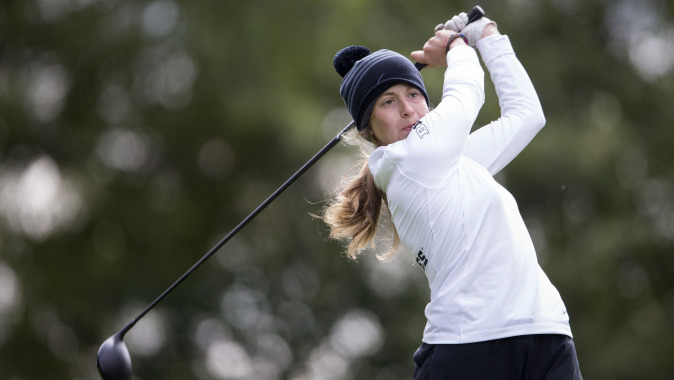 April 9, 2015
Q: What is it like working with coach Menzel and coach Selders?
A: Coach Menzel is a great person, always willing to put a smile on your face. She is supportive in every aspect and motivates the entire team. Coach Selders gives good advice during the rounds. He perfectly understands each of us.
Q: What led to you to Iowa City and the Hawkeye golf program?
A: I had a good vibe with both coach Menzel and coach Selders. Iowa offers great academic programs and the facilities for the athletes are great. Being a part of the Big Ten was also very appealing.
Q: What facet of your game has improved the most since last spring?
A: My accuracy with all my clubs. In general, I feel more comfortable in every aspect of my game.
Q: What are the team goals for the spring season?
A: As a team, we aim to lower scoring average and place ourselves higher up in the rankings.
Q: What did you do over the winter break?
A: I went back home. It was nice because I could golf outside and I also got to see my family and friends.
Q: What was your favorite golf memory growing up?
A: I grew up playing golf with family relatives. Nothing compares to a family round on a Sunday evening.
Q: What was the last movie you saw in theaters and what did you think of it?
A: Interstellar. I went with one of my teammates. I found it mind-blowing and the movie didn't feel as long as some people told me it would be.
Q: What do you like to do in your free time?
A: Hang out with friends and listen to music.
Q: What is your favorite home-cooked meal when you go home and why?
A: Being in Iowa has made me appreciate everything my mom cooks. I can't make a decision of what I miss the most.
Q: What is your favorite Hawkeye memory so far?
A: Traveling to different tournaments it's nice seeing new places and meeting new people around the whole country. Traveling also builds up our team chemistry and makes us work harder together.
The Hawkeyes return to action on April 18-19 to take part in the Lady Buckeye Invitational in Columbus, Ohio.