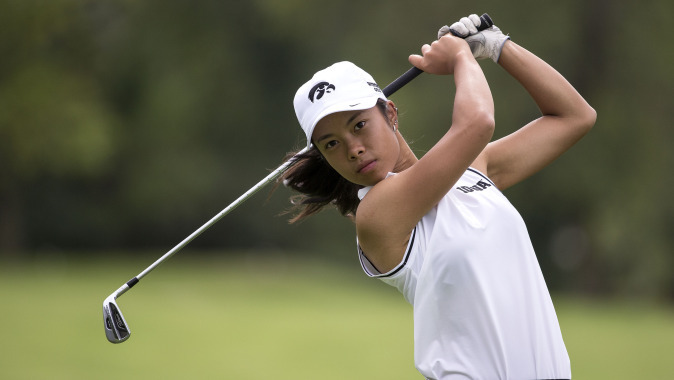 April 18, 2015
Day One Results

COLUMBUS, Ohio — The University of Iowa women's golf team completed day one action at the Lady Buckeye Invitational on Saturday. The Hawkeyes registered a round one 306 (+18) before improving four strokes and tallying a second round 302 (+14). Iowa sits in ninth two strokes off Big Ten rival Illinois for eighth.
"We did not execute as well as we would have liked today, but I was proud of the way our team played until the end of the day," said UI head coach Megan Menzel.
Freshman Jessica Ip provided the best finish for her team with a two-round total 146 (+2). Ip carded a round one 73 (+1), with four birdies. She stayed consistent in the second round posting another 73 (+1) including four more birdies. Ip ends day one tied for fourth, six strokes off the leader.
"Jessica had a very steady day and she did an excellent job managing the course," noted Menzel.
Jessie Sindlinger posted a two-round total 151 (+7), providing the second best finish for the team. The sophomore carded a first round 77 (+5) before improving in the second round, posting a 74 (+2). She made par on 22 of a possible 36 holes ending day one tied for 20th. Amy Ihm finished just behind Sindlinger with a two-round total 155 (+11). Ihm registered a first round 77 (+5), making par on 13 total holes. She then tallied a 78 (+6) in the second round, making par on 12 total holes while birdieing hole 17. Ihm ends day one tied for 40th.
Shelby Phillips carded a two round total 156 (+12), posting rounds of 79 and 77. Nicole Rae tallied a two round total 160 (+16), including rounds of 82 and 78.
Briana Midkiff rounded out the competition for Iowa posting a total 166 (+22) with rounds of 81 and 85.
The Hawkeyes finish competition at the Lady Buckeye Invitational teeing off at 8 a.m. (CT) on Sunday for the third and final round.