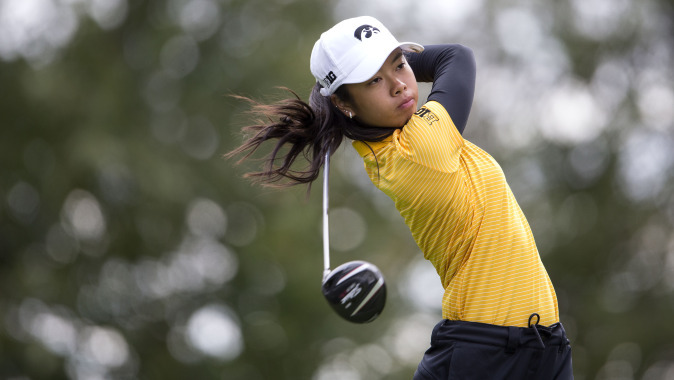 April 19, 2015
Final Results

COLUMBUS, Ohio — The University of Iowa women's golf team wrapped up its regular season at the Lady Buckeye Invitational on Sunday. The Hawkeyes shot a three round total 926 (+62), including rounds of 306, 302 and 318. Iowa finished ninth in the 12-team tournament.
Jessica Ip recorded the best finish for the Hawkeyes tallying a three-round 226 (+10), with rounds of 73, 73 and 80. In round three, the freshman birdied hole four and made par on nine total holes. She finished the competition tied for 12th. Amy Ihm was the second best finisher for Iowa posting a three-round 233 (+17), registering rounds of 77, 78 and 78. The junior made par on 13 total holes in the third round en route to a tie for 35th.
Jessie Sindlinger finished one stroke behind Ihm firing a three-round total 234 (+18), with rounds of 77, 74 and 83. She ended the competition tied for 39th. Shelby Phillips carded a three-round 236 (+20). She registered a round one 79 (+7), before improving in the second round tallying a 77 (+5). She shot a three-round 80 (+8), ending the weekend tied for 45th.
Briana Midkiff and Nicole Rae both finished tied for 65th. Rae shot rounds of 82, 78 and 86. Midkiff tallied rounds of 81, 85 and 80.
Next for the Hawkeyes is the Big Ten Championships in Indianapolis, Indiana, on April 24-26.