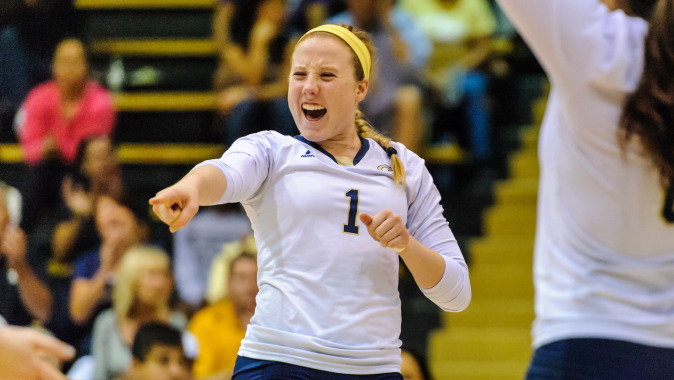 April 21, 2015
IOWA CITY, Iowa — University of Iowa head volleyball coach Bond Shymansky increased his program's depth in the back row with the addition of defensive specialist Annika Olsen. Olsen joins the Hawkeyes as a sophomore transfer following one season at Georgia Tech.
"Annika is a fantastic athlete and competitor," Shymansky said. "She is a rock solid back row player with a tremendous amount of talent in her passing platform, and has great range and instinct. She is a fantastic person and straight A student.
"She adds a lot to an already improved and exciting team for us this fall."
Olsen appeared in 113 of 118 sets of her freshman season for the Yellow Jackets, posting double-digit kills in 11 matches. She recorded a season-best 21 digs against Boston College, a season-high three aces at Wake Forest, and led Georgia Tech with 40 digs at the Gamecock Invite.
The Johns Creek, Georgia, native tallied 270 digs (2.39 digs per set) in 2014 — the third-highest total on the team. Olsen also served up 11 aces and dished out 28 assists.
"Annika played her entire freshman year at Georgia Tech, so that Division I experience is going to translate into a certain confidence and comfort level on the court," Shymansky said. "Yet, she recognizes that this is the Big Ten. She knows she will see the best of the best, day in and day out."
Olsen was a three-year letterwinner at Johns Creek High School, where she led the Gladiators to the 2012 Area Championship. She garnered 2014 Co-Player of the Year (6A) honors in Georgia, was a two-time first team all-state selection (2012, 2013), and a two-time most outstanding player (2012, 2013).
Olsen played with A5 Volleyball Club in Atlanta, Georgia. She was named a 16-Under AAU All-American in 2012, and traveled to Beijing, Nanjing, and Shanghai in 2013 to train and compete with elite Chinese volleyball teams.
"The most prominent comment that all of Annika's former coaches made about her was that she is one of the most gifted athletes they've ever seen play the game of volleyball," Shymansky said. "That athleticism will definitely translate into the intensity, energy, and skill we need to be competitive in the Big Ten."
Olsen, along with transfers Loxley Keala and Ashley Mariani, and freshmen Reghan Coyle, Reagan Davey, Molly Kelly, and Libby Koukol, will begin their Hawkeye playing careers in 2015.