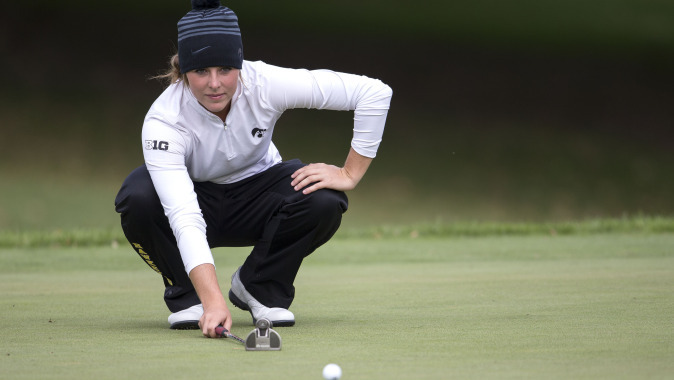 April 24, 2015
Day One Results

INDIANAPOLIS — The University of Iowa women's golf team completed day one action at the Big Ten Championships Friday. The Hawkeyes shot a 305 (+17) ending the first round in 11th, two strokes behind Penn State for 10th.
Junior Amy Ihm, who averages a 76.8 scoring average, fired in a first round 75 (+3). She recorded the best finish today for her team. Ihm birdied holes one, four, and 10. She also managed to make par on 10 holes finishing day one tied for 29th.
In the last Big Ten Tournament of her Hawkeye career, senior Shelby Phillips recorded a round one 75 (+3), tying Ihm for the team's best day one finish. Phillips made par on 15 holes and is tied for 29th. Jessie Sindlinger, who holds the team's second best scoring average this season, shot a round one 77 (+5). She birdied hole 16 and made par on nine more. She ends day one tied for 44th.
In the first Big Ten tournament of their young collegiate careers, freshmen Elisa Suarez and Jessica Ip both tallied a round one 78 (+6), one stroke off Sindlinger. Suarez birdied holes one and 10. Ip birdied holes four and six, both end day one tied for 52nd.
Morgan Kukla posted a first round 79 (+7). She birdied hole three and sits tied for 63rd.
The Hawkeyes continue action at the Big Ten Championships on Saturday at 8:30 a.m. (CT) with the second round.