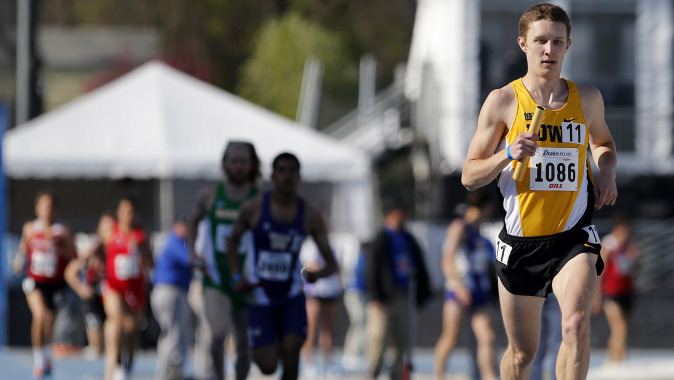 Photo Gallery

April 25, 2015
Final Results

DES MOINES, Iowa — The University of Iowa track and field team closed the Drake Relays with five top-eight finishes on Saturday. The event was held at the Jim Duncan Track and Johnny Bright Field in Des Moines, Iowa.
Sam Fourman electrified the Hawkeye crowd on the final lap of the men's 1,500 meters. The redshirt junior held off David Timlin of Indiana State (3:44.52) to clinch second, respectively, in a lifetime best 3:44.50. Fourman's time ranks fourth on Iowa's all-time list and would fall second in the Big Ten.
"My plan going into the race was just to hang in the middle of the pack until a lap to go," Fourman said. "The last 200 meters of the race was great. The crowd was really loud and I could hear a ton of Hawkeye fans in the stands. I really wanted to bring home a Drake flag for Iowa, but the winner just had a little more left than me today."
Junior MonTayla Holder, sophomore Elexis Guster, junior Lake Kwaza, and sophomore Brittany Brown collected hardware in the women's 400-meter relay. The quartet clocked 45.20 to finish third, respectively.
"The 4×1 ran a good time and competed all the way to the finish," director of track and field Joey Woody said. "Unfortunately, we didn't have a great exchange, which cost us a chance at winning, but I think we have the makings of a Big Ten championship relay; we just have to clean up our exchanges."
The Hawkeyes registered a pair of fourth-place finishes on the day. Mitch Wolff had a strong showing in the men's 400-meter hurdles. The junior won his section in a personal best 51.44 en route to collecting a fourth-place finish overall. His mark moves him to seventh in Big Ten rankings.
Senior Annemie Smith (188-04, 57.41m) opened competition for the Hawkeyes with a fourth-place finish in the women's hammer throw.
Sophomore Vinnie Saucer, Jr. (10.587) registered a seventh-place finish in the men's 100-meter dash final.
"We had our ups and downs the whole weekend," Woody said. "I was hoping for a few bigger performances, but I was proud the athletes who fought and produced those performances. I'm really excited about being at home next weekend. I think we will be able to put together some great races."
The Hawkeyes host the 16th annual Musco Twilight on May 2.
Relays:
W 1,600-Meter Sprint Medley Relay L. Kwaza, B. Brown, E. Guster, K. Trost (6th/3:53.29)
M 1,600-Meter Sprint Medley Relay J. Ganschow, N. Aly, B. Davey, W. Teubel (11th/3:26.16)
M Distance Medley Relay D. Gardarsson, N. Aly, C. Lilly, K. Lewis (12th/10:07.07)
W Distance Medley Relay S. Maser, S. Champe, K. Nelson, A. Jones (16th/12.07.62)