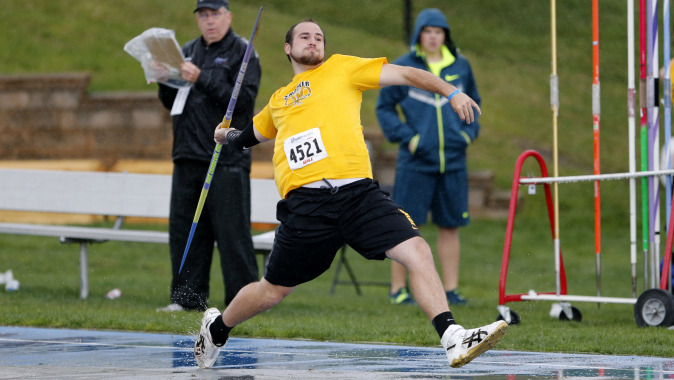 April 28, 2015
Editor's Note: The following first appeared in the University of Iowa's Hawk Talk Daily, an e-newsletter that offers a daily look at the Iowa Hawkeyes, delivered free each morning to thousands of fans of the Hawkeyes worldwide. To receive daily news from the Iowa Hawkeyes, sign up HERE.
By DARREN MILLER
hawkeyesports.com
IOWA CITY, Iowa — The 2015 Drake Relays was a showcase for several current University of Iowa track and field athletes. It was also a stage for Hawkeye alumni, including javelin thrower Matt Byers.
Byers, a three-time Big Ten Conference champion, two-time All-American, and school record holder at Iowa, is still wearing a gold top when he competes, but it now denotes the Shocker Track Club out of Wichita, Kansas. Byers is a native of Wichita and attended East High School, where he is an assistant football coach. His "real" job is working with special needs children and young adults at Levy Special Education Center in Wichita.
"It's a fun job. You get a sense of gratitude of how lucky and blessed you are," Byers said.
Byer's weekday routine is weight lifting and work in the morning and throws practice in the afternoon. While he makes ends meet through work, Byers is looking to uncork one big javelin throw that could change his career.
"A good story is Riley (Dolezal, who placed second at the 2015 Drake Relays)," Byers said. "Three years ago he was training by himself. At (the 2013 USA Championships in Des Moines) he threw 83.5 meters (273-feet, 11-inches) and now he is sponsored by Nike."
At the same meet, Byers — still representing the University of Iowa — was seventh with a throw of 73.69 meters (241-9).
"Once you pop that big throw you kind of stay in that groove and stay with it," Byers said.
Byers is tutored by John Hetzendorf, the throws coach at Wichita State University, and his father, Brian.
Finding opportunities for throwers at field competitions can be a tough gig. But in the state of Kansas, Byers has attended meets at Emporia State, Kansas University, and Wichita State.
"If you're a thrower it's a lot harder," Byers said. "If you aren't throwing far enough to go to the (U.S. Olympic Training Center), you have to find a job to make ends meet and you have to train and find a college coach who is willing to take the time to coach you. There are a lot of variables that have to happen. It's not really set up for a way for you to succeed unless you make it yourself."
Byers might return to Des Moines for the 2015 USA Outdoor Track and Field Championships, and he intends to take a shot at making the US Olympic Team Trials in Eugene, Oregon, in 2016.
"I still have a pretty strong burning desire to do it," Byers said. "The most frustrating thing now is I haven't been able to get my technique right, so it has kind of affected me. (Friday at the Drake Relays) was probably my worst meet of the year. I have been consistent right around 70-71 (meters). I was hoping to come in with a big throw."
Byers placed fourth at Drake behind Tim Glover (249-1), Dolezal (248-11), and MaCauley Garton of Missouri (234-7). Byers threw 217-11 on his first toss (66.42 meters) and 221-9 on his second (67.60 meters). Current Hawkeye Sam Joens was eighth (63.03 meters, 206-feet, 9-inches).
Byers wants to get his foot in the door of college football coaching after the 2016 season. Even then, he plans to continue training with the javelin and coach throwing events.
There is another interesting note from Byers' performance at the Drake Relays. Although his top said Shockers Track Club, his shorts were black with four gold letters running down the side. The letters were I-O-W-A.