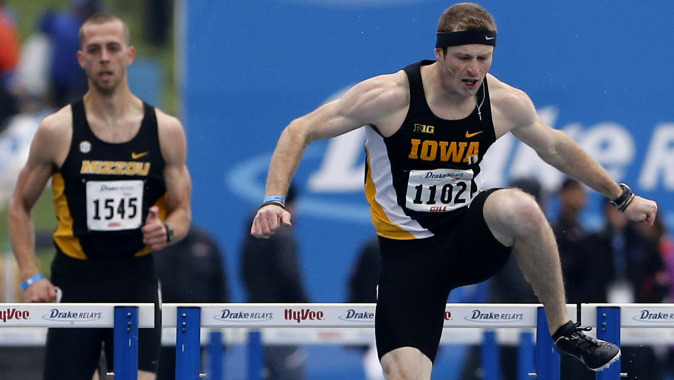 April 29, 2015
Weekly Release

| Schedule of Events

| Start Lists

THIS WEEK
The University of Iowa track and field team hosts the 16th annual Musco Twilight on Saturday at the Francis X. Cretzmeyer Track. Field events begin at 2 p.m. (CT) with track events following at 4:15 p.m. (CT). The meet will feature teams from Bradley, Illinois (men), Iowa State, Minnesota, Nebraska, UNI, and Wisconsin. Admission is $5 for adults, free for UI students and youth 18 and younger.
TAKE THE SHUTTLE
A free roundtrip shuttle from the Hawkeye Commuter Lot (Hawkeye Park Road off First Avenue) to Cretzmeyer Track begins at 1 p.m. (CT) and runs? continuously until the end of the meet.
FOLLOW THE HAWKEYES — BTN, ONLINE, TWITTER
Follow @IowaXC_TF on twitter for updates on the team. Links to live results can be found on the schedule page at hawkeyesports.com. The Musco Twilight will air on a tape delay Sunday, May 10 at 11 a.m. (CT). Dean Linke will call the action, with Rebecca Haarlow and Joe Alexander providing analysis. Kenny McReynolds will report from the field.
MUSCO HISTORY
Iowa hosted the first Musco Twilight in 1999. The event has continued 16 of the last 17 years. In 2008 the meet was canceled due to flooding. The lights are provided by Musco Lighting, an Iowa based company from Oskaloosa, Iowa.
SENIOR DAY
The Hawkeyes will recognize 12 seniors Saturday at 4 p.m. (CT). They include: Adrianne Alexia, Babatunde Amosu, Keith Brown, Brennan Davey, Jack Eckert, Gabe Hull, Kevin Lewis, Shannon Maser, Annemie Smith, Jocelyn Todd, Kaleb VanCleave, Ben Witt.
HULL BREAKS DISCUS RECORD
Senior Gabe Hull broke the Iowa discus record at last year's Musco Twilight. Hull recorded a personal-best toss of 207-1 (63.11m) to take the Musco discus title. Iowa has won the Big Ten men's discus title eight times, most recently in 2006 when Tim Brodersen defended his title from 2005.
O'SHEA RETURNS UN-O'TTACHED
Sophomore O'Shea Wilson is expected to make his season debut Saturday. He will compete unattached in the 100 meters, as he still has the option to redshirt in 2015. Wilson, a Houston, Texas, native, has not competed since undergoing surgery in November 2014. He was team MVP in 2014, and closed his freshman season earning All-America honors for his role on the 400-meter relay that placed sixth at the NCAA Championships. He led Iowa last year in the long jump and 200 meters. His 200-meter time of 20.82 ranks eighth in school history, while his long jump mark of 25-2 (7.67m) falls seventh on Iowa's all-time list.
Larry Wieczorek 1,500 METERS
Larry Wieczorek, the former University of Iowa director of track and field and pioneer of the Musco Twilight meet, will be the honorary referee Saturday. Wieczorek, a former Big Ten champion and current UI school record holder, joined the Iowa coaching staff in 1984. He was named head coach of the men's cross country program in 1987, and in 1997 took over for Ted Wheeler as head coach of the men's track and field program. Two years later, Wieczorek introduced Musco Lighting to Cretzmeyer Track, creating a twilight track and field meet that has become a University of Iowa tradition for 16 of last 17 years. Its only hiccup since the inaugural 1999 meet was in 2008, when floodwaters cancelled the event. Wieczorek coached 53 All-Americans before retiring from the University of Iowa on June 3, 2014, after 30 years on the Iowa track and field coaching staff. He and his wife, Jackie, still reside in the Iowa City area. The Musco Twilight 1,500 meters is now named the "Larry Wieczorek 1,500 meters" in his honor.
2014 MUSCO CHAMPIONS
Five current Hawkeyes grabbed titles at last year's Musco Twilight. They include: Kevin Spejcher (high jump), Babatunde Amosu (triple jump), Brittany Brown (100, 200), Aaron Mallet (110-meter hurdles), and Gabe Hull (discus). The women's 1,600-meter relay of sophomore Elexis Guster, junior MonTayla Holder, sophomore Mahnee Watts, and sophomore Alexis Hernandez also nabbed gold.
WOODY HOLDS 400 HURDLES RECORD
UI Director of Track & Field Joey Woody currently holds the Musco Twilight 400-meter hurdles record. Woody clocked 48.94 in 2004. Woody was a four-time All-American at Northern Iowa, winning the 1997 NCAA title in the 400-meter hurdles. He also ran competitively on the international track circuit, earning a spot on three United States World teams. Woody won the silver medal in the 400-meter hurdles at the World Championships and was ranked second in the world in the event. Since arriving at the University of Iowa, Woody has led Iowa to 13 Big Ten individual titles, four conference relay titles and 38 All-America honors.
DYNAMIC DUO
Junior Lake Kwaza and sophomore Brittany Brown hold two of the top five fastest times in the Big Ten in both the 100 and 200 meters. Kwaza is Iowa's school record holder in the 100, and Brown is Iowa's school record holder in the 200.
? 1st/Lake Kwaza/100 meters (11.40)
? 1st/Brittany Brown/200 meters (23.14)
? 3rd/Brittany Brown/100 meters (11.53)
? 4th/Lake Kwaza/200 meters (23.59)
GUSTER HOLDS TOP SPOT
Elexis Guster moved to first in conference rankings following a sixth-place finish at the Mt. SAC Relays on April 18. The sophomore crossed the line in a season best 53.30. Iowa owns the Big Ten's top times in the 100 meters (Kwaza, 11.40), 200 meters (Brown, 23.14), and 400 meters (Guster, 53.30).
FOURMAN, WOLFF SHINE AT DRAKE
Redshirt junior Sam Fourman (1,500 meters) and junior Mitch Wolff (400-meter hurdles) clocked personal-bests performances in their respective events at the Drake Relays on April 25. Fourman grabbed a second-place finish overall in 3:44.50. His time ranks second in the Big Ten and fourth on Iowa's all-time list. Wolff took fourth in the 400-meter hurdles in 51.44, a time that currently stands seventh in the Big Ten.
CHAMPIONSHIP SEASON
The 2015 Big Ten Outdoor Championships will be held in East Lansing, Michigan, from May 15-17. BTN will air the conference championships on Sunday, May 24 at 10 a.m. (CT). The NCAA Regionals are set for May 28-30 in Austin, Texas, while the NCAA Championships will be held in Eugene, Oregon, from June 10-13.
MUSCO ALUMNI REUNION
The track and field program is hosting an Alumni reunion Saturday, May 2 at the Musco Twilight XVI. A reception will follow at the Coralville Vine. RSVP to kathryn-see@uiowa.edu for more details.
NEXT ON THE BLOCK
The Hawkeyes travel to East Lansing, Michigan, for the Big Ten Outdoor Championships from May 15-17.