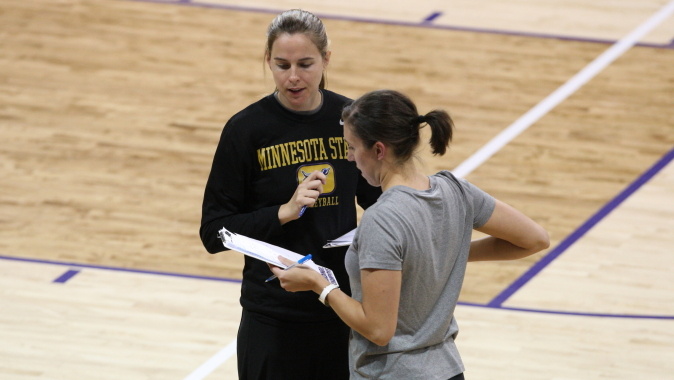 May 1, 2015
IOWA CITY, Iowa — University of Iowa head volleyball coach Bond Shymansky announced the addition of Bre Payton to his staff on Friday. Payton, a native of Waterloo, Iowa, will serve as director of volleyball operations.
"Bre is a fantastic, home grown product of the state of Iowa," Shymansky said. "She has a blue collar work ethic, but also an innate ability to strive for winning. We want winners in and around our program in every possible facet. Having her on board as director of operations will help give us one more piece of that puzzle."
Payton comes to Iowa from Minnesota State, Mankato, where she worked as a graduate assistant for the volleyball program. Her duties included travel arrangement, meal planning, coaching, assessing film, and recruiting.
While there, Payton pursued a master's degree in sport management. She expects to complete and receive her degree in May 2015.
Payton played collegiate volleyball at UNI. The four-year starter earned first team all-conference honors and conference player of the year recognition in three consecutive seasons (2009-11).
"I'm excited for this opportunity," Payton said. "I was born and raised an Iowa fan, so to be here is awesome. I enjoyed my time at UNI, and am excited to continue my career in the state of Iowa.
"I love this staff and am grateful for the opportunity. I'm excited to experience the Big Ten and see what the future holds for this program."
Payton, a setter for the Panthers, is a two-time second team All-American (2010-11) and an honorable mention All-American (2009).
"As an All-American setter, Bre has a fantastic grasp of the game of volleyball," Shymansky said. "She has been living volleyball for her entire life, and that certainly won't change now. It's great to have someone with that level of passion and commitment to the game inside our program."
She completed her degree at UNI in movement and exercise science: sport psychology in 2012.