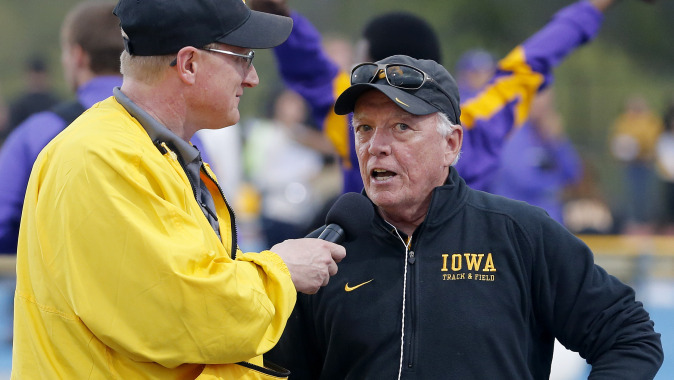 May 2, 2015
Editor's Note: The following first appeared in the University of Iowa's Hawk Talk Daily, an e-newsletter that offers a daily look at the Iowa Hawkeyes, delivered free each morning to thousands of fans of the Hawkeyes worldwide. To receive daily news from the Iowa Hawkeyes, sign up HERE.
IOWA CITY, Iowa — Light the candles and shine the lights, Musco Twilight is celebrating its "Sweet 16" tonight at Cretzmeyer Track.
It took one year longer than expected — Musco Twilight took a one-year hiatus in 2009 due to floodwater damage — but the fact that it has lived this long, or even saw the light of day to begin with, is a testament to its founding father and some very generous UI graduates.
Larry Wieczorek, the now retired UI track and field coach, sat under the lights in Madison, Wisconsin, in 1998 and thought to himself, "I would love to have a night meet in Iowa City."
One problem, "no lights."
Wieczorek was in his second year as head coach of the men's track and field team at the time, and he was determined to bring an entertaining track meet to Iowa City.
He knew there was a lighting company from Oskaloosa, Iowa, that serviced the UI campus, but beyond that, he didn't know much.
"I didn't know Musco at all," he explained. "I just cold called the president of the company."
Joe Crookham, the president of Musco Lighting and a UI graduate, was intrigued by the business opportunity — likely because he thought it was just that, a business opportunity.
"Joe said to me," Wieczorek recalled, "'Well Coach, how much money do you have?'"
Wieczorek gulped and replied, "I don't have any money."
Crookham shared a sympathetic chuckle with Wieczorek, but before hanging up the phone he assured him he'd 'think about it.'
One week later, Crookham phoned Wieczorek and uttered the unbelievable words, 'Hey Coach, we'll do it.'
"I had no idea if he'd even call me back," said Wieczorek. "I just knew it was a dream to me, and I've always acknowledged that he made that dream come true."
The dream became reality in 1999, a year Wieczorek says stands out in his memory not only because it was the inaugural event, but because of the talent on the track.
NCAA champion Bashir Yamini anchored the winning 400-meter relay, edging former Hawkeye and 1996 Olympic Gold medalist Anthuan Maybank, and UI senior Tim Dwight returned for his final season and anchored the winning 1,600-meter relay — exactly three months after scoring a touchdown in Super Bowl XXXIII.
"Certain things fell together that first year," Wieczorek said. "I wanted fans to come and have fun, but first you have to have the athletes perform on the track. Otherwise you don't have a very good track and field meet."
Wieczorek introduced a few amenities after Year 1 to enhance the fan experience. Some stuck — fireworks, fan zone, Scott Family Video Board, Big Ten Network — and some, including Arena Football smoke tunnels in 2000, did not.
The one constant since Day 1 has been Musco Lighting. They show up every Friday before the meet to aim the lights, and they spotlight what Wieczorek calls the "darkest part of Johnson County" every Saturday.
Without their enthusiasm, Wieczorek says, there is no event.
"First and foremost, they're good people. I've never met a Musco representative that didn't come to the meet and love being here," he said. "They're Iowans, it's a good event, and they love doing things for Iowa. It's a piddly event compared to some of the stuff they do, but they treat it like a big deal."
It's been 17 years since Wieczorek set out to create a "fun track and field meet" that allowed athletes to be "stars for the night." He retired June 3, 2014, and Saturday will be his first track and field meet since.
He'll be in the stands for this one, and he jokingly admits he's reached his judgement day: "I guess I'll find out if it's fun or not."