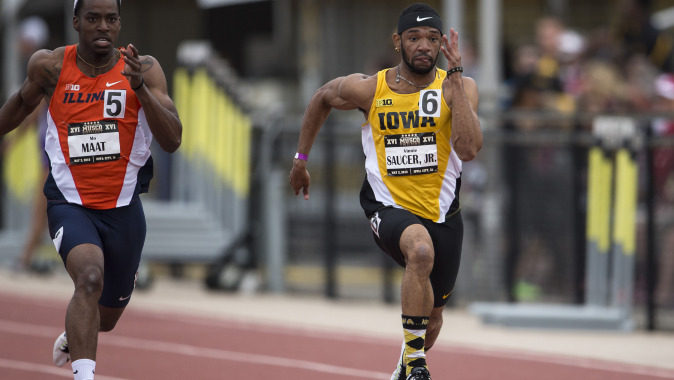 May 6, 2015
IOWA CITY, Iowa — Vinnie Saucer, Jr., always wanted to be the fastest man in the Big Ten Conference. But until last week, there were people who doubted it would happen.
That's not because he hadn't shown ability to perform at a high level — he was a 2008 Junior Olympic champion in the 100 meters — the problem was, the results hadn't shown up recently.
A 2013 California state champion, Saucer was expected to immediately contribute to the Hawkeye sprints and relays as a freshman in 2014. But he didn't, and a year ago he wasn't in the conference conversation a week before the Big Ten Championships.
This year is different. Saucer says he has made changes to his personal life and paid closer attention to his body before, during, and after practice. As a result, he clocked a personal-best 10.41 at the Musco Twilight. It's the fastest time in the Big Ten, and to Saucer, it means something personal.
"The top time means everything," he said. "It's a chance to prove everybody wrong, prove all the doubters wrong, and come out and perform for my team at a Division I level."
| | |
| --- | --- |
| | "First place is the goal. I'm feeling great. I've been healthy this whole year and I'm just excited to be able to perform for the team." |
He is one of three Hawkeye men traveling to East Lansing, Michigan, next week as the Big Ten's top seed. Aaron Mallett (13.60) is ranked No. 1 in the 110-meter hurdles and Klyvens Delaunay (51-11 1/4, 15.83m) has the top mark in the triple jump.
Mallett has been the conference front-runner for more than a month. Delaunay and Saucer have held the top spot for less than a week, but Saucer says that late-season push is nothing unusual.
"I just needed more reps," he said. "Early in the season I was getting used to things and makings sure I didn't hurt myself. I finally got comfortable and now I feel I can just keep going. I'm getting faster as I go."
His latest time pushed him to Iowa's all-time top performers list for the first time in his career. He is tied for ninth among Iowa's all-time greats, but that list isn't a top concern right now. Instead, he's focused on winning the conference championship and joining George Page (1995, 96), Tim Dwight (1999), and Justin Austin (2013) as the only Hawkeyes able to call themselves 'Fastest Man in the Big Ten.'
"First place is the goal," said Saucer. "I'm feeling great. I've been healthy this whole year and I'm just excited to be able to perform for the team."