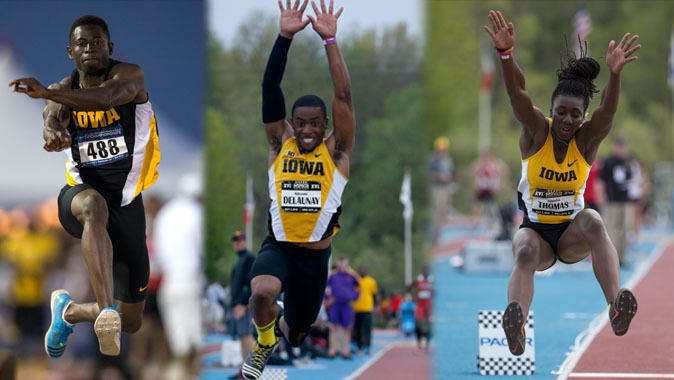 May 11, 2015
Editor's Note: The following first appeared in the University of Iowa's Hawk Talk Daily, an e-newsletter that offers a daily look at the Iowa Hawkeyes, delivered free each morning to thousands of fans of the Hawkeyes worldwide. To receive daily news from the Iowa Hawkeyes, sign up HERE.
By JORDAN BUCHER
hawkeyesports.com
IOWA CITY, Iowa — The University of Iowa track and field team is packing a powerhouse of horizontal jumpers when it travels to the Big Ten Track and Field Championships in East Lansing, Michigan, this week.
The Hawkeyes catapulted two jumpers to the top of the Big Ten at the 16th-annual Musco Twilight on May 2. Freshman Jahisha Thomas (20-02.25, 6.15m) took the women's long jump title, while junior Klyvens Delaunay (51-11.25, 15.83m) earned gold in the men's triple jump.
Delaunay was making only his second appearance of the outdoor season at Musco, but recording the top mark in the Big Ten came as no surprise.
"I knew I was ready to jump big," Delaunay said. "We always have high intensity practices, so not competing in a lot of meets doesn't affect me too much. Resting and staying healthy is more important than going out and jumping every week. I was comfortable in that situation."
The Claremont, California, native is used to flying among the bests in the Big Ten and the country. He placed second at last year's championships and earned All-America honors at the NCAA meet as a freshman. He holds the fourth-best mark in school history at 52-2 1/2 (15.91m).
For Thomas, youth doesn't seem to be a factor. The London native jumped 20-04.25 (6.20m) in high school, a mark that would rank third all-time at Iowa. Her collegiate-best mark, which she recorded at Musco Twilight, moved her to fourth in program history.
"Competition is tighter in the states," Thomas said. "You can't have an average day and think that's going to be good enough. I'm not going into the championships with a mindset that tells me I have three more chances if this one doesn't work out. It's going to be tough, but I look to stand above everybody else. That's the plan."
That plan also holds true for Delaunay, who recognizes that his toughest competition will come from senior Babatunde Amosu. Amosu, also a native of London, is a two-time Big Ten indoor champion and a second-team all-American outdoors. He owns the third best jump in school history (52-04.75, 15.97m) and finished second at Musco Twilight (50-10.75, 15.51m).
"We share a sibling rivalry," Delaunay said. "There is never any hard feelings, but no one likes to lose. Right now Babatunde has gotten (the conference title) twice. I want to win this one, but it's all fun and games between us."
"I'm grateful to have him as a teammate because we push each other a lot," Amosu said. "Klyvens' jump at Musco was huge. Whenever that happens, it pushes me to work harder and come out next time and do something big."
The Hawkeyes are one week away from the start of the Big Ten Championships, and Delaunay is welcoming the pressure that comes with opening as the top seed.
"I look forward to the pressure," Delaunay said. "When I know people are aiming for me, it pushes me a lot more than me having to chase someone. Musco has given me a lot of momentum and a lot of confidence heading into the championships. I know there's a lot more there. Big jumps are coming."
Thomas and junior Kassidy Ellis compete in the women's long jump Saturday at 3:35 (CT). Amosu, Delaunay, and junior Kerry Dean, Jr., compete in the men's triple jump Sunday at 12:30 p.m. Ralph Young Field will host the championships on the campus of Michigan State University.