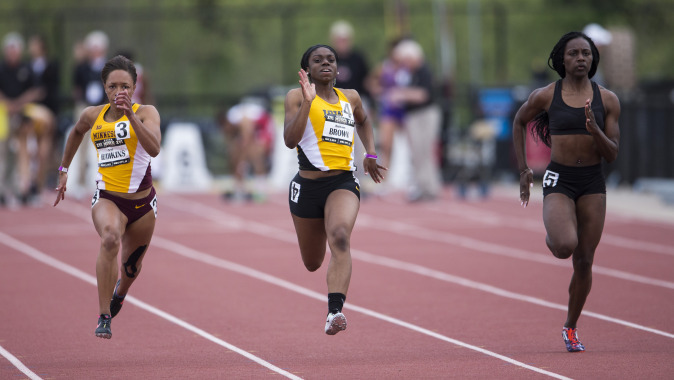 May 16, 2015
Full Results

EAST LANSING, Mich. — The University of Iowa track and field team advanced ten individuals in 12 events to the finals, while senior Gabe Hull snatched silver on day two of the Big Ten Outdoor Championships on Saturday. After eight events scored, the men's team is seventh (20 points), while the women are tied for ninth (11 points).
"Today went really well for both the men and women," UI director of track and field Joey Woody said. "We got a lot of people through to the finals who we were expected to make it, and we also had some individuals in the field events who really stepped up today. For the men, it's definitely one of the highlights since I've been at Iowa to see the number of qualifiers we had make it to the finals."
Hull was the early point scorer for Iowa with a second-place finish (eight points) in the men's discus throw. The Bloomington, Indiana, native recorded a season-best toss of 190-0.25 (57.91m).
Senior Jack Eckert tallied a career-high 7,087 points in the men's decathlon to finish sixth overall. That mark moves him to second on Iowa's all-time list. Redshirt freshman William Dougherty (12th) posted the fourth-highest mark in school history with a collegiate best 6,862 points.
The Hawkeyes received a pair of sixth-place finishes (six points total) in the long jump. Junior Klyvens Delaunay made his season debut in the men's competition with a personal best 24-1.75 (7.36m), while freshman Jahisha Thomas (19-11.50, 6.08m) competed for the women.
Junior Dakotah Goodell tallied two points for her seventh-place finish in the women's javelin throw. The Williamsburg, Iowa, native posted a collegiate best 153-3.25 (46.71m), a mark that ranks fourth in school history, while freshman Kayla Hochhalter (9th) moved to seventh on Iowa's all-time list with a personal best 150-9 (45.94m).
Junior Kevin Spejcher (6-9.75, 2.08m) leaped to seventh in the men's high jump.
Ten Hawkeyes qualified for tomorrow's finals across 12 events.
Junior James Harrington posted collegiate bests in the 100 (10.26) and 200 meters (20.50), and enters as the top seed in both races. His name jumps to third on Iowa's all-time list in both events.
Sophomore Vinnie Saucer, Jr. (10.52) will also compete in the 100-meter dash final at 12:55 p.m. (CT).
"James really stepped up his game today," Woody said. "We weren't even sure if we were going to put him in the 100 until last week. We decided to put him the race because we thought he had a good chance to make the final, and now he put himself in a position to make the podium."
Sophomore Aaron Mallett (13.71) qualified for the men's 110-meter hurdle final. He enters the race with the fastest prelim time. The event is set for 12:35 p.m. (CT).
Sophomore Brittany Brown enters the 100-meter dash final with the fastest prelim time of 11.42. Her name moves to second on Iowa's all-time list. Junior Lake Kwaza (11.62) also moves on in the event. The final is set for 12:50 p.m. (CT).
Brown (23.22) will also appear in the 200-meter dash final as the second seed. The gun goes off at 1:35 p.m. (CT).
Sophomore Elexis Guster (54.00) was an automatic qualifier in the women's 400 meters after winning her heat. The final begins at 12:40 p.m. (CT).
Junior MonTayla Holder (59.34) claimed first in her heat to advance to the women's 400-meter hurdle final at 1:18 p.m. (CT). Junior Mitch Wolff (51.90) also made finals in the men's race, which starts at 1:28 p.m. (CT).
"Brittany is looking as good as I've ever seen her," Woody said. "Lake continues to do some amazing things this year. MonTayla is coming off a great race today, and Elexis won her heat in the 400. I think all of those girls are very confident going into the 4×100 tomorrow."
Redshirt junior Sam Fourman (3:49.50) clocked the eighth-fastest prelim time in the men's 1,500 meters to qualify for finals. The gun will go off at 12:15 p.m. (CT).
Junior Will Teubel (1:49.77) moves on in the men's 800 meters with the seventh-fastest prelim time. The race commences at 1:08 p.m. (CT).
"I'm excited about tomorrow," Woody said. "We start things out with the 4×100. We are defending Big Ten champions, and are ranked pretty high for both the men and women. I'm really looking forward to some big things tomorrow. I feel positive about the direction that the team is moving as we head into the Big Ten finals."
The Championships resume tomorrow at 10 a.m. (CT) at the Ralph Young Field on the campus of Michigan State University.