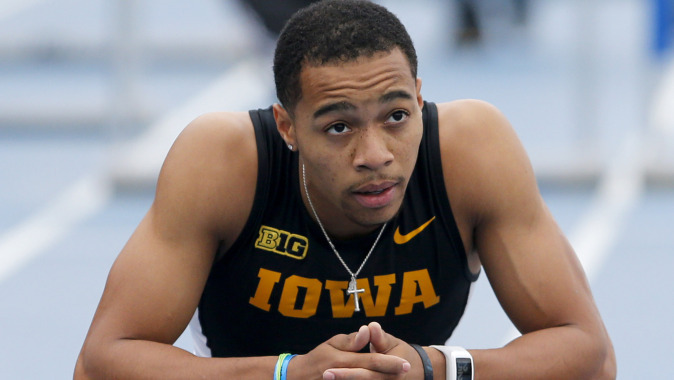 May 21, 2015
IOWA CITY, Iowa — The NCAA announced Thursday that 26 student-athletes from the University of Iowa have qualified for the 2015 NCAA Track and Field Outdoor Championships on May 28-30 in Austin, Texas.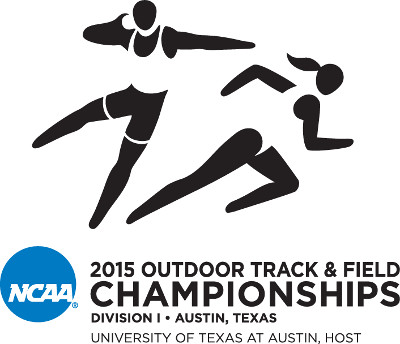 The Hawkeye men are represented by a total of 15 qualifiers, made up of 15 student-athletes competing in 13 individual events and two relays. The men are seeded 12th or higher in five events. Aaron Mallett and Babatunde Amosu, both reigning Big Ten champions, are the highest seeded Hawkeyes. Mallett is the No. 2 seed in the 110-meter hurdles, and Amosu is seeded fourth in the triple jump.
Eleven Hawkeye women qualified for 12 individual events and one relay. Big Ten champion Elexis Guster is seeded eighth in the 400 meters, and 2014 All-American Brittany Brown is seeded sixth in the 200 meters.
The men's and women's 400-meter relay are seeded eighth. Both teams advanced to the NCAA final site last season. The men placed sixth at the NCAA finals to earn first team All-America honors, and the women placed 11th to earn second team honors.
The top 12 individuals and relays from each event at the East and West first round sites move on to the NCAA Championships final rounds in Eugene, Oregon, on June 12-15.
QUALIFIERS BY EVENT (SEED, ATHLETE, QUALIFYING TIME/MARK)
Women's 100 meters
13. Lake Kwaza, 11.40
Men's 100 meters
21. Vinnie Saucer, Jr., 10.31
Women's 200 meters
6. Brittany Brown, 22.89
26. Lake Kwaza, 23.59
Men's 200 meters
9. James Harrington, 20.20
41. Vinnie Saucer, Jr., 21.02
Women's 400 meters
8. Elexis Guster, 52.19
Women's 800 meters
20. Katharina Trost, 2:07.09
Men's 800 meters
20. Will Teubel, 1:48.60 45. Carter Lilly, 1:50.12
Men's 1,500 meters
35. Sam Fourman, 3:44.50
Men's 10,000 meters
14. Kevin Lewis, 28:59.62
Men's 110-meter hurdles
2. Aaron Mallett, 13.43
Women's 400-meter hurdles
11. MonTayla Holder, 58.29
Men's 400-meter hurdles
21. Mitch Wolff, 51.26
Women's 3,000-meter steeplechase
22. Marta Bote Gonzalez, 10:23.15
Men's High Jump
31. Kevin Spejcher, 2.14m
Women's Long Jump
16. Jahisha Thomas, 6.15m
Men's Triple Jump
4. Babatunde Amosu, 16.15m
11. Klyvens Delaunay, 15.83m
Women's Hammer
16. Annemie Smith, 60.99m
Women's Javelin
34. Dakotah Goodell, 46.71
36. Kayla Hochhalter, 45.94
Men's Javelin
32. Sam Joens, 64.45
Women's 400-meter relay
8. IOWA, 44.71
Men's 400-meter relay
8. IOWA, 39.66
Men's 1,600-meter relay
14. IOWA, 3:08.23