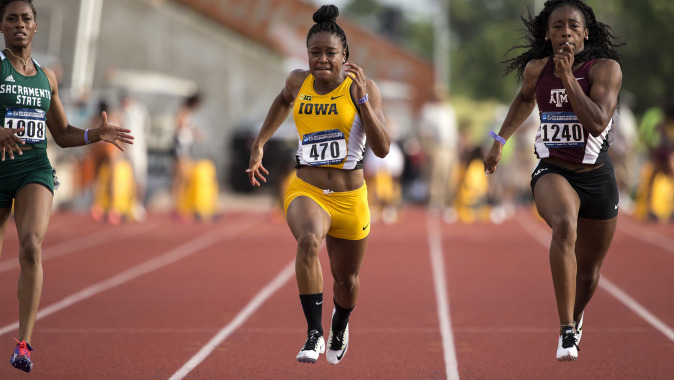 Photo Gallery

May 28, 2015
AUSTIN, Texas — Six University of Iowa track and field athletes advanced to the quarterfinals of the 2015 NCAA Outdoor Championships on Thursday following first round competition at the West Regional in Austin, Texas.
MonTayla Holder (400m hurdles), Mitch Wolff (400m hurdles), Lake Kwaza (100m), Vinnie Saucer, Jr., (100m), Elexis Guster (400m) and Will Teubel (800m) advanced to compete in Friday's quarterfinals and a chance to move on to the NCAA Championships in Eugene, Oregon, on May 10-13. The top 12 finishers in the quarterfinals advance to the semifinals in Eugene.
"This was a great first day for Iowa track and field," said UI director of track and field Joey Woody. "We have a lot of athletes moving on to the next round and in great position to advance to Eugene."
Kwaza matched her school record in the 100 meters, finishing 14th overall in 11.40 to advance to the quarterfinals for the second straight year.
"I think it sets me up pretty well," Kwaza said after matching her personal best. "I'm taking each race one at a time to make the finals and then finish in that top 12."
Guster and Holder each earned automatic bids to the quarterfinals with third-place finishes in their respective heats. Holder placed 12th overall in the 400-meter hurdles (59.34), and Guster finished 10th overall in the 400 meters (53.20).
"The first step is to qualify for the finals," said Guster, who advanced to the NCAA semifinals as a freshman in 2014. "Typically I run slower in the prelims. Now that I know how the track feels I'm confident coming back tomorrow and running a faster time."
Wolff, Saucer, and Teubel are all first-time NCAA quarterfinalists. Wolff finished the 400-meter hurdles in 51.84 to place 14th and earn the first non-automatic qualifying position. Saucer grabbed the last non-automatic qualifying spot, placing 23rd overall in 10.34 in the 100 meters. Teubel advanced after placing fourth in his 800-meters heat (1:50.20).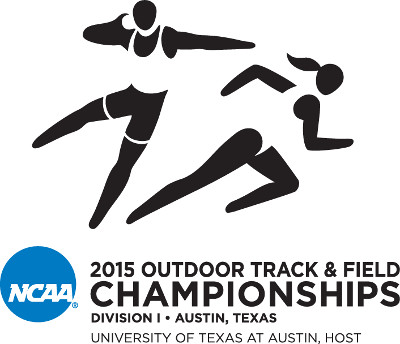 Seven Hawkeyes saw their season come to a close Thursday, including senior All-American Kevin Lewis, who placed 28th the 10,000 meters (31:27.86) in his final collegiate race. Carter Lilly (1:51.36) and Katharina Trost (2:11.60) placed 37th and 38th, respectively, in the men's and women's 800 meters, and Sam Fourman placed 37th in the 1,500 meters.
"I came up short but I'm looking forward to next year," said Fourman, a first-time NCAA qualifier. "I'm way ahead of where I expected to be, so I'll continue that success into cross country and track and field next season."
Annemie Smith, Kevin Spejcher, and Jahisha Thomas fell outside the top 12 in field events and did not advance to Eugene. Smith placed 23rd in the hammer (58.88m, 193-2) and Spejcher placed 27th in the high jump (2.08m, 6-9 ¾).
Thomas fell on spot from advancing to the NCAA semifinals, placing 13th in the long jump with a collegiate personal best (6.17m, 20-3).
"I am very proud of Jahisha," said Woody. "She hit a collegiate PR on a national stage today and missed going to Eugene by just three centimeters."
The quarterfinals begin Friday at 6 p.m. (CT). The Hawkeyes also have six runners competing Friday in opening round events. Aaron Mallett opens the day at 5:30 p.m. in the 110-meter hurdles. Kwaza and Brittany Brown compete in the women's 200 meters at 8 p.m., and Saucer and James Harrington compete in the men's 200 meters at 8:25 p.m. Marta Bote Gonzalez concludes Iowa's day with the 3,000-meter steeplechase at 8:50 p.m.
Day 1 Results