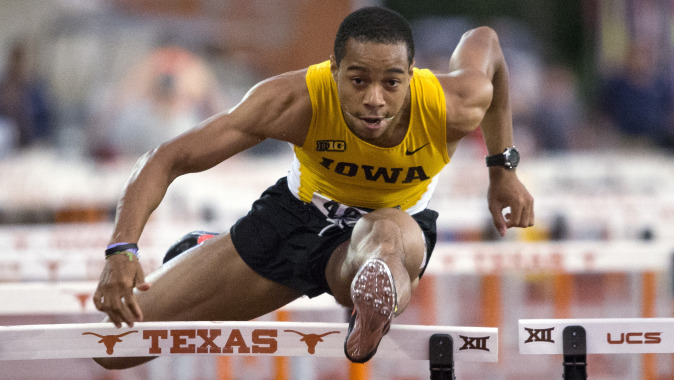 May 30, 2015
Photo Gallery

AUSTIN, Texas — The University of Iowa advanced three more individuals and one relay to the 2015 NCAA Outdoor Championships following quarterfinal competition Saturday at the NCAA West Regional in Austin, Texas.
Aaron Mallett (110m hurdles), Brittany Brown (200 meters), Babatunde Amosu (triple jump), and the men's 400-meter relay finished among the top 12 in their respective events and will compete for national titles May 10-13 at the NCAA final site in Eugene, Oregon.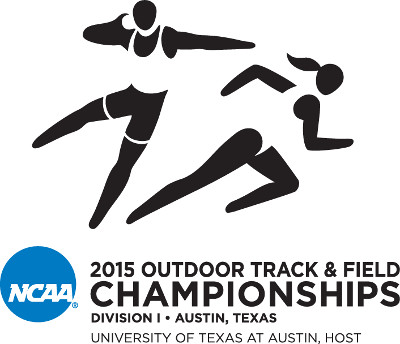 Mallett placed third overall in the 110-meter hurdles in 13.64, advancing to the NCAA final site for the first time in his two-year career.
"I knew I didn't have to do anything spectacular," said Mallett, a 2015 indoor All-American. "I just needed to punch my ticket and whatever the time was I'd be happy with it. The next goal is a national championship."
Brittany Brown placed 10th in the 200 meters (23.39) to advance to the NCAA finals for the second time in as many years. She placed 11th overall in 2014, earning second team All-America honors.
"I'm just thankful to qualify for again," Brown said. "It feels good and I want to make a statement this time. I'm going to go out and give it my best."
The men's 400-meter relay is returning to the NCAA finals after placing sixth in 2014. Vinnie Saucer, Jr., Aaron Mallett, Brendan Thompson, and Keith Brown circled the track in 39.77 to place ninth overall.
"It feels really good to put things together at the NCAA meet," said Keith Brown, who anchored the All-America relay in 2014. "We had some ups and downs this season and I'm glad we got through to Oregon."
Amosu, the reigning Big Ten champion and a 2015 indoor All-American, is returning to Eugene for the second straight year. He placed eighth and qualified with a leap of 15.68m (51-5 ½).
Freshman Kayla Hochhalter was one inch from qualifying for the NCAA finals in women's javelin. She threw 46.49m (152-6) on her third and final throw, a new personal record and the fifth best mark in program history, but finished 13th overall, one spot outside the top 12.
The men's 1,600-meter relay — Mitch Wolff, Thompson, Mallett, Brennan Davey — finished in a season best 3:07.15, but placed 17th and did not advance.
Following three days of qualifying, the Hawkeyes advanced five individuals and one relay to the NCAA finals. Iowa qualifiers include Mallet (110m hurdles), Brown (200 meters), Elexis Guster (400 meters), Mitch Wolff (400m hurdles), Amosu (triple jump), and the men's 400-meter relay.
"I am extremely proud of how the entire team competed this weekend," said UI director of track and field Joey Woody. "We gave it our best in every event and we have a great representation going to Eugene and looking to become All-Americans.
"It's very tough for those just missing it, but it was a great experience for them and will just add fuel to to their fire this summer and next year."
Day 3 Results

| NCAA Complete Results

IOWA DAY 3 RESULTS
Women's 400-meter relay quarters
23. Ellis, Guster, Holder, Brown, 45.81
Men's 400-meter relay quarters
9. Saucer, Mallett, Thompson, Brown, 39.77 q
110-meter hurdles quarters
3. Aaron Mallett, 13.64 Q
200 meters quarters
10. Brittany Brown, 23.39 Q
Lake Kwaza, scratch
Men's 1,600-meter relay quarters
17. 17. Wolff, Thompson, Mallett, Davey, 3:07.15
Men's javelin first round
29. Sam Joens, 62.24m; 204-2
Women's javelin first round
13. Kayla Hochhalter, 46.49; 152-6
43. Dakotah Goodell, 41.85; 137-3
Triple Jump first round
8. Babatunde Amosu, 15.68m 51-5 ½ Q