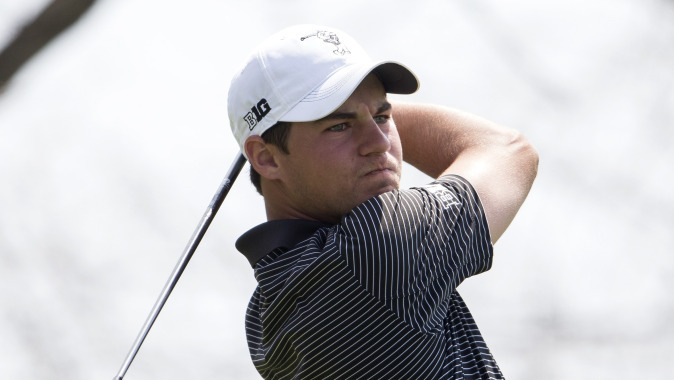 May 31, 2015
IOWA CITY, Iowa — University of Iowa golfers Carson Schaake, Raymond Knoll, and Brian Bullington have been named to the Division I PING All-Midwest Regional Team, the Golf Coaches Association of America announced on May 30. Iowa had the second most golfers honored by the GCAA in the Big Ten behind Illinois' five selections.
Schaake, a sophomore from Omaha, Nebraska, earned first team All-Big Ten honors prior to earning All-Region honors, both the first accolades of his Hawkeye career. The highlight of Schaake's sophomore campaign came at the 2015 Big Ten Tournament where he was crowned co-champion, earning his first collegiate individual title, while recording the best 72-hole score (284; -4) and best 18-hole score of his career with a seven-under-par 65. Schaake became the third Hawkeye in program history to accomplish the feat and the first since Brad Klapprott in 1992.
Schaake was Iowa's top finisher in seven events this year, leading the Hawkeyes in top-10 finishes (four), top-20 finishes (nine), rounds at or below par (18) and scoring average, which was the second-best in program history (71.17).
Knoll, a sophomore from Naperville, Illinois, earned second team All-Big Ten honors prior to earning the second All-Region honor of his career. Knoll was Iowa's top individual finisher in two events this season, with his best performance coming at the Rod Myers Invitational, where he tied for 13th. Knoll finished with the second-lowest scoring average (72.47) of all Hawkeye golfers in addition to having the second-most top-20 finishes (six). He carded the best 72-hole score of his career (299; +11) at the 2015 Big Ten Championships.
Bullington, a senior from Frankfort, Illinois, also earned All-Region honors for the second-straight year. Bullington, who finished with the third-best scoring average of all Iowa golfers (72.83), was Iowa's top finisher at the Royal Oaks Intercollegiate this fall. He finished three strokes above par while also matching his career best 18-hole score with a 68 in the second round en route to an 11th-place finish, his best performance of the year. Bullington tied with Knoll for the second-most rounds at or below par (11) on the team.
Iowa's three honorees led the Hawkeyes to three third place finishes and a second place finish at the 2015 Big Ten Championships. The Hawkeyes also qualified for NCAA Regional play for the seventh-straight season, joining Illinois as the only Big Ten teams to qualify in each of the last seven seasons. Iowa finished the 2014-15 campaign ranked 38th in the Golfstat rankings. Since 2009, Iowa has garnered 19 All-Region honors. Bullington, Knoll, and Schaake are the first honorees under first-year head coach Tyler Stith.