May 31, 2015
Photo Gallery

By DARREN MILLER
hawkeyesports.com
AUSTIN, Texas — Brittany Brown and Aaron Mallett are sophomore veterans on the national stage and it showed Saturday in the quarterfinals of the NCAA West Preliminary at Mike A. Myers Stadium.
No female Hawkeye has run faster for 200 meters than Brown; no male Hawkeye has run faster in the 110 high hurdles than Mallett. The All-Americans set themselves up for more postseason accolades by once again qualifying for the NCAA Finals to be held June 10-13 in Eugene, Oregon.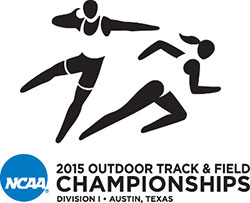 For Brown, she moved on by placing third in her 200 quarterfinal heat — and 10th overall — with a time of 23.29. Her school-record 22.89 was set at the Big Ten Conference championships two weeks ago.
"I want to make a statement this time," Brown said of her second trip to the NCAA Finals. "I'm good enough to be with them, so I'm going to go out there and run my best. I want to PR again; if I can PR, then I got my goal."
Brown accelerated down the stretch with her trademark kick to automatically qualify in third place behind freshmen A'Keyla Mitchell of Kansas State (23.16) and Deanna Hill of Southern California (23.28).
"I started off a little slow, but I finished, that's my strong suit," Brown said. "I was glad to come out here and do it. I'm thankful to qualify again."
Last season Brown earned second-team All-America honors in the 200, finishing 11th with a time of 23.35. She is the only Hawkeye female to run faster than 23 seconds for 200 meters.
Mallett became an indoor All-American on March 14 when he placed sixth in the 60-meter hurdles in 7.79 seconds. At the conference championships two months later, he not only won the individual title, but set a school record in 13.43 seconds. He looked comfortable Saturday, finishing runner-up in the first of three heats to Arkansas sophomore Omar McLeod in 13.64. McLeod was national champion in the indoor 60 hurdles in 7.45.
"I didn't want to push myself too much, mess around and fall or anything like that," Mallett said. "I didn't have to do anything spectacular, I just knew I had to punch my ticket and whatever the time was, I was happy with it."
This is the second year Mallett has been brushing shoulders against the finest hurdlers in the land. He certainly belongs with them and his confidence is increasing.
"When you hurdle with the best it only brings the best out of you," he said.
A year ago at the NCAA West Preliminary in Fayetteville, Arkansas, Mallett placed 15th in the 110 hurdles (13.86) and 37th in the 400 hurdles (52.68). He was named the team's Most Outstanding Freshman, and his continued growth was on display this weekend in Texas. Now he has a much larger goal.
"National champion, that's all you want to do," Mallett said. "I want to be a national champ."
Brown and Mallett get their chance in two weeks. They will be joined by six other Hawkeyes who are poised to earn All-America recognition.