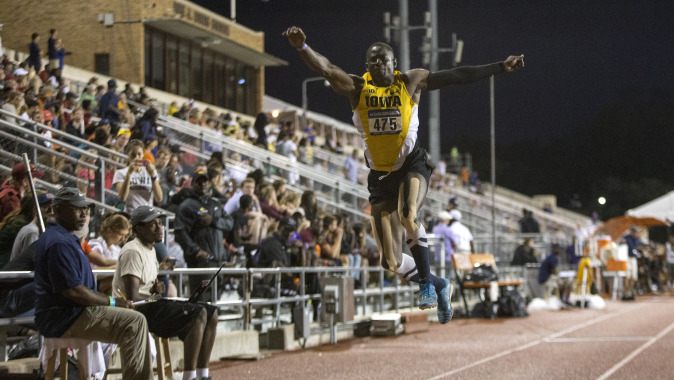 June 12, 2015
EUGENE, Oregon — University of Iowa sophomore Aaron Mallett broke Iowa's 110-meter hurdles school record en route to a fifth-place finish Friday at the 2015 NCAA Outdoor Track and Field Championships.
Mallett crossed the line in 13.40 to break the hurdles school record for the second time this season and earn first team All-America honors. The sophomore broke Pat McGhee's 26-year-old school record when he clocked a 13.43 to win the 2015 Big Ten title (5/17/15). Mallett is the first Hawkeye to earn first team All-America accolades in the 110-meter hurdles since McGhee in 1989.
"I am extremely proud of Aaron and how far he has come in one year," said UI director of track and field Joey Woody. "It's hard to believe he only finished sixth at the Big Ten outdoor meet a year ago and now he is top five in the nation. He has his sights on the top of the podium and I believe he has the talent, the mindset and the work ethic to get there."
Babatunde Amosu ended his Hawkeye career as an honorable mention All-American after placing 22nd in the triple jump (50-8 1/4; 15.45). The senior won the Big Ten indoor and outdoor championships this season, and was a second team indoor All-American. His personal best (53-10; 6.40m) ranks No. 2 in school history.
"I know this wasn't the finish to Babatunde's career that he wanted, but he leaves Iowa as a three-time Big Ten Champion and that's something that can never be taken from him," said Woody. "He has been a tremendous Hawkeye and represented our program at the highest level."
Eight Hawkeyes earned All-America honors throughout the championships, including:
First Team
110-meter hurdles — Aaron Mallett – 5th
Second Team
400-meter relay – Vinnie Saucer, Aaron Mallett, James Harrington, Keith Brown – 12th place 400-meter hurdles – Mitch Wolff – 16th place
Honorable Mention
Triple Jump – Babatunde Amosu – 22nd place
200 meters – Brittany Brown – 17th place 400 meters – Elexis Guster – 21st place