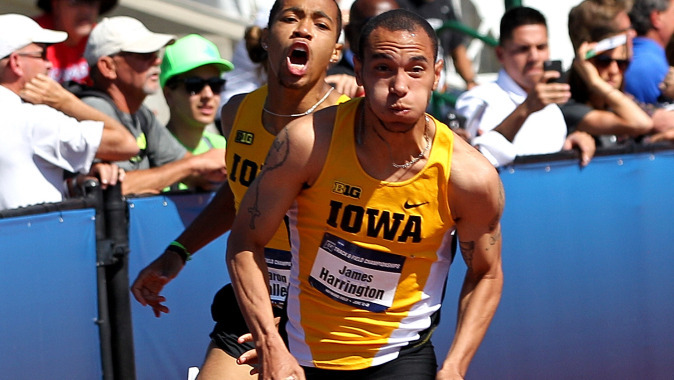 June 17, 2015
Editor's Note: The following first appeared in the University of Iowa's June edition of Hawk Talk Monthly presented by Transamerica.
By CHRIS BREWER
hawkeyesports.com
IOWA CITY, Iowa — University of Iowa sophomore Aaron Mallett backed up his 2015 All-America indoor season with an encore performance under the high skies of Track Town, USA.
Mallett placed fifth in the 110-meter hurdles at the 2015 NCAA Outdoor Championships on June 12, and he did so in spectacular fashion, breaking his own school record in 13.40.
"I am proud of Aaron and how far he has come in one year," said UI director of track and field Joey Woody. "It's hard to believe he only finished sixth at the Big Ten outdoor meet a year ago and now he is top five in the nation. He has his sights on the top of the podium and I believe he has the talent, mindset, and work ethic to get there."
Mallett's postseason started with a school record and conference title at the Big Ten Championships on May 15. He was one of 25 Hawkeyes to qualify for the NCAA West Regional, and one of eight Hawkeyes to advance to the NCAA Outdoor Championships in Eugene, Oregon.
Five individuals and one relay competed for NCAA titles at Hayward Field from June 10-13, including Babatunde Amosu (triple jump), Brittany Brown (200 meters), Elexis Guster (400 meters), Mallett, Mitch Wolff (400-meter hurdles), and the men's 400-meter relay.
Wolff, a junior from Plainfield, Illinois, placed 16th to earn second-team All-America honors in his first NCAA finals appearance.
"I am proud of what Mitch accomplished this season," said Woody. "He remained 100-percent committed and developed into one of the best 400 hurdlers in the country. I know he has much higher expectations for next season."
Woody also expects the outdoor championships to benefit sophomores Brown and Guster in 2016. Brown, a second team All-American in 2014, placed 17th in the 200 meters. Guster, a two-time Big Ten champion in the 400 meters, placed 21st in her signature event.
"I know Elexis and Brittany had higher goals," Woody said, "but both women accomplished great things this year with school records and Big Ten championships. This experience will motivate them as they prepare for next season."
The men's 400-meter relay arrived in Eugene with consecutive sixth-place finishes at the national meet (2013-14). Sophomore Vinnie Saucer, Jr., Mallett, junior James Harrington, and senior Keith Brown, were unable to make it three in a row, but Woody expects a quick rebound.
"I am excited to see what this relay can do next season," said Woody. "With the guys we have returning, the addition of (All-American) O'Shea (Wilson), and some very talented incoming freshmen, I believe we can get back on the podium."
Keith Brown is the only relay member not in the picture next season, and one of only two Hawkeyes that competed in Eugene for the final time.
Amosu, a second-team All-American in the triple jump last season, placed 22nd in his final collegiate meet.
"I know it wasn't the finish Babatunde wanted, but he leaves Iowa as a three-time Big Ten champion and that's something that can never be taken from him," said Woody.
The Hawkeyes earned eight All-America honors in 2015, Woody's first at the helm. The 2016 roster features six returning All-Americans, two former All-Americans (Wilson and junior Klyvens Delaunay), and three Big Ten champions, including 2014 high jump champion Khanishah Williams.