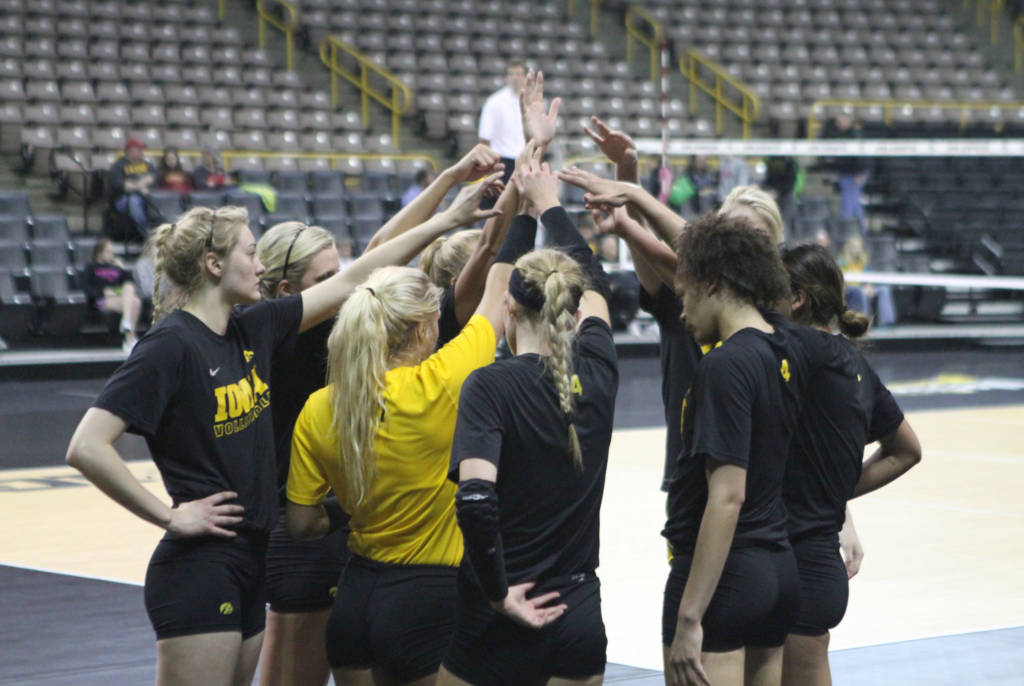 June 29, 2015
IOWA CITY, Iowa — University of Iowa head volleyball coach Bond Shymansky announced the 2015 schedule on Monday. The Hawkeyes are scheduled to host two tournaments and play 10 home matches against Big Ten opponents on Mediacom Court inside Carver-Hawkeye Arena.
Iowa begins the year with two tournaments on the road at Northern Illinois (August 29-30) and Hawaii (Sept. 4-6) before hosting back-to-back tournaments at Carver-Hawkeye Arena. The Hawkeyes welcome Wisconsin-Milwaukee, Texas A&M, and Iowa Corn Cy-Hawk Series foe Iowa State to the Comfort Suites Challenge on Sept. 11-12 before hosting Coastal Carolina, Drake, and Gardner-Webb in the Holiday Inn Hawkeye Classic on Sept. 18-19.
The Hawkeyes open the Big Ten slate at home against Nebraska on Sept. 23. A three-match road stint follows, as the team challenges Nebraska (Sept. 26), Ohio State (Oct. 2), and reigning NCAA champion Penn State (Oct. 3). Iowa returns home the following week to host Michigan (Oct. 7) and Michigan State (Oct. 10).
The UI travels to Illinois and Northwestern on Oct. 16 and Oct. 18, respectively, before returning to Carver-Hawkeye Arena for a four-match home stand against Wisconsin (Oct. 23), Minnesota (Oct. 24), Maryland (Oct. 30), and Rutgers (Oct. 31).
Iowa travels to Indiana (Nov. 4) and Purdue (Nov. 7) the following week, before hosting Penn State in a midweek contest on Nov. 11. After a trip to Madison, Wisconsin, on Nov. 14, the Hawkeyes return home for a pair of contests against Ohio State (Nov. 18) and Northwestern (Nov. 21). Iowa concludes the regular season on the road with matches against Maryland and Michigan State on Nov. 25 and Nov. 28, respectively.
In Shymansky's first year at the helm, the Hawkeyes compiled a 14-17, and logged the most wins in Big Ten Conference play since 2008 (6-14). Iowa returns 10 student-athletes and adds seven newcomers to its roster this fall. To view the complete volleyball schedule, visit hawkeyesports.com.