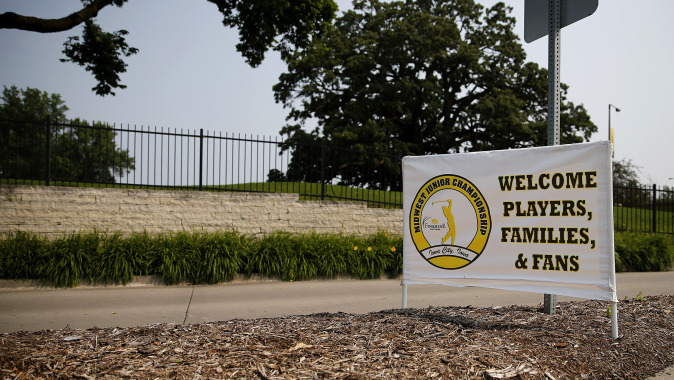 June 30, 2015
IOWA CITY, Iowa — The Univesity of Iowa's Finkbine Golf Course played host to some of the top junior golfers from across the Midwest on June 29-30 for the 2015 Midwest Junior Championship.
Golfers from 10 states throughout the Midwest participated in the two-day, 36-hole event.
Before taking over as Assistant to the Director of Athletics in 2014, Mark Hankins served as head coach of the University of Iowa's highly-successful men's golf program from 2007-14. Among his duties, Hankins oversees operations at Finkbine. He also played a pivotal role in bringing the event to Iowa City.
"When this event was started it was actually played at Wakonda Golf Club in Des Moines, Iowa," said Hankins. "The reason that we did it there is because we felt that it was easier for people to get to since it's in the middle of the state, which was a big factor since we wanted to make this a national level event. We decided to bring it to Finkbine since the Wakonda Club was hosting a senior tour event (Principal Charity Classic) earlier in June, and it's been amazing."
Located on the western edge of The University of Iowa campus, just walking distance from Kinnick Stadium and Carver-Hawkeye Arena, is Finkbine Golf Course. It is the full-time practice and competition site for the Iowa men's and women's golf programs.
"Hosting an event like this at Finkbine offers a couple of things," said Hankins. "Finkbine has quite a few elevation changes; you're up and down hills throughout the course. Our signature hole, hole 13, is a water hole that presents a very difficult challenge. The course challenges golfers mentally to play against a top field on really nice, fast greens.
"In addition to the challenges, Finkbine also offers exposure for these young golfers. Not only are our University of Iowa coaches here, but there are also coaches from other in-state institutions. This is the only National Junior level event in the state, so we try to get the best field that we can."
The course layout is prized by the University and Iowa City golfing community. Finkbine was the site of the Amana VIP Pro-Am for more than 20-years, and in 1991 became the site of the Ben Hogan Hawkeye Open. Finkbine was also the site of the 1993 and 2003 Big Ten Women's Golf Championship, hosted the 2002 men's league championship, and is host to the annual Hawkeye-GRE Invitational and Diane Thomason Invitational. The course usually opens to the public in early April and remains playable well into November.
"What's really important, is that we're bringing in over 100 athletes, as well as their families, to stay in Iowa City for three or four days," said Hankins. "There are a lot of future University of Iowa students competing in this event, so we're allowing them to see our golf course, our restaurants, and everything else that Iowa City has to offer."
All three incoming Hawkeye freshmen — Aaron DeNucci (Clive, Iowa), Mathew Walker (Ottumwa, Iowa), and Aaron Wirt (Des Moines, Iowa) — competed in the event. DeNucci and Walker each carded a 36-hole total 220 (+4) to finish in a tie for second place in the 76-player field, while Wirt tied for 17th place after firing a 232 (+16). Conner Koberg of Cedar Rapids, Iowa earned medalist honors after firing a two-under-par 214.