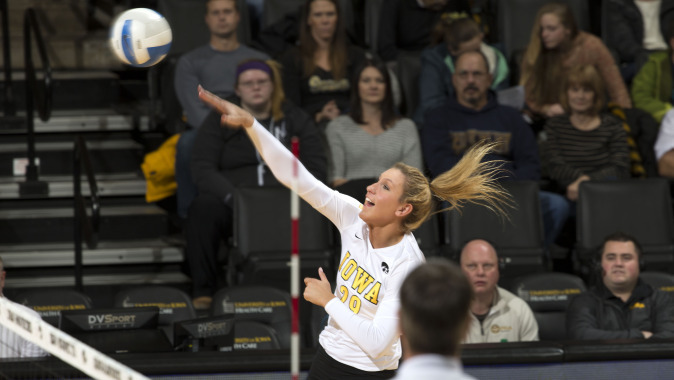 Aug. 29, 2015
DeKalb, Ill. — The University of Iowa volleyball team improved to 2-0 on the season with a 3-2 win over Pacific (1-1) on Saturday afternoon. The Hawkeyes remain undefeated in the NIU Invitational (2-0) after sweeping South Dakota State (3-0) earlier today.
"We looked so sharp early on," said head coach Bond Shymansky. "You can kind of see our team giving the fight and fire that we have been working so hard to achieve during preseason."
Both teams battled through eight tie scores in the first set before the Hawkeyes claimed the victory, 25-23. Juniors Ashley Mariani and Lauren Brobst and senior Mikaela Gunderson led the offense, registering four kills each.
The Hawkeye offense kept the momentum rolling in set two, registering a hitting percentage of .565. After trading points early, the Hawkeyes used a 5-0 run to grab a 6-2 lead. They never lost it from there. Sophomore Jess Janota led the offensive charge, recording six kills in eight total attempts to help the Hawkeyes to a 25-18 second-set victory.
After dropping the second and third sets, the Hawkeyes fought back in set five. Iowa used an 8-2 run to gain the lead and ultimately secure the 15-12 set victory. Janota was clutch in the end, recording kills for Iowa's final three points.
"We let them take the momentum at the end of the third set, and you could tell we were rattled in the third and fourth set," Shymansky said. "I give our group tons of credit and our coaching staff as well. They kept their cool and really focused on what we needed to get back to."
Janota (17 kills; .500 hitting percentage) and Brobst (16 kills) paced the Iowa offense. Junior Loxley Keala dished out a team-high 52 assists, sophomore Annika Olsen recorded a team-leading 16 digs, while Brobst led the team in blocks (4).
"I'm just really proud of that gritty win," said Shymansky. "Pacific is really a strong team. They were second in their league last year. This is going to be a catapulting win for us, because it takes so much focus and intensity to win in that fifth set."
The Hawkeyes wrap up NIU Invitational action tomorrow, taking on the host Huskies at 2 p.m. (CT).
| | | | | | |
| --- | --- | --- | --- | --- | --- |
| Iowa vs Pacific | 1st | 2nd | 3rd | 4th | 5th |
| Iowa (2-0) | 25 | 25 | 22 | 19 | 15 |
| Pacific (1-1) | 23 | 18 | 25 | 25 | 12 |
Statistical Leaders
Kills: Janota (IOWA) 17 | Elman (PAC) 22
Assists: Keala (IOWA) 52 | Whitson (PAC) 44
Digs: Olsen (IOWA) 16 | Elman (PAC) 15
Blocks: Brobst (IOWA) 4 | Whitson (PAC) 5