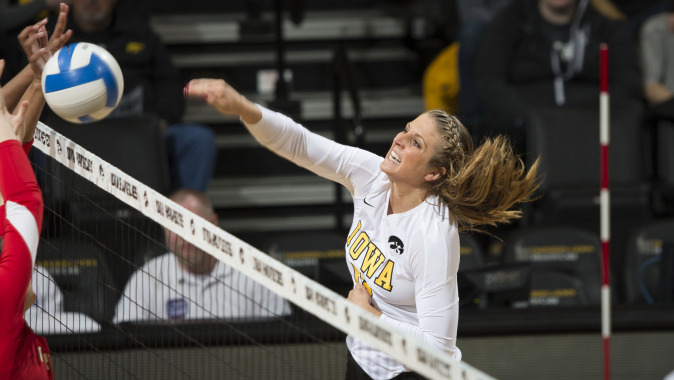 Sept. 2, 2015
Weekly Release

ALOHA
The University of Iowa volleyball team continues the 2015 season at the Hawaiian Airlines Wahine Volleyball Classic in Honolulu, Sept. 5-6. The Hawkeyes take on the No. 17 Rainbow Wahine at 12 a.m. (CT) and No. 25 UCLA at 9:3- p.m. on Saturday, and conclude weekend against American at 7:30 p.m. (CT) on Sunday. Each match will take place at Stan Sheriff Center.
WATCH/LISTEN
Iowa's Saturday match against Hawaii will be streamed online at http://ocsports.tv/ocsports_live. Audio is available for all three matches on Hawkeye All-Access at hawkeyesports.com. Second-year play-by-play announcer Tim Keating will call the action. Live stats are also available for each contest on the volleyball schedule page on hawkeyesports.com.
FOLLOW THE HAWKEYES
For an inside look at the Iowa Volleyball program and to access exclusive coverage, "like" University of Iowa Volleyball on Facebook and follow @IowaVolleyball on Twitter and Instagram. Be sure to follow the team's live Twitter feed, @IowaVB_Live, for more frequent in-match tweets, statistics and more.
STRENGTH OF SCHEDULE
Twelve of Iowa's 2015 opponents are ranked in the most recent American Volleyball Coaches Association (AVCA) Top 25 Poll, released on August 31. No. 1 Penn State, T-No. 4 Nebraska, No. 6 Illinois, No. 13 Wisconsin, No. 17 Hawaii, No. 19 Michigan State, No. 22 Ohio State, No. 24 Purdue, and No. 25 UCLA are all ranked within the top 25, while Texas A&M, Iowa State, and Michigan are receiving votes.
ALL-TOURNAMENT HONORS
Junior Lauren Brobst and sophomore Jess Janota each earned all-tournament team honors following the NIU Invitational on Aug. 29-30. Brobst recorded 51 kills in three matches, including a season-high 21 against Northern Illinois on Aug. 30. She currently leads the team in kills per set average (4.25). Janota finished the tournament with 31 kills. The Concord, Ohio, native paced the team with 17 kills against Pacific on Aug. 29.
CLOSE TO HOME
Setter Loxley Keala is a Hawaii native. Her hometown of Kaneohe, Hawaii, is just 30 minutes away from Honolulu. The junior notched 134 assists in NIU Invitational action on Aug. 29-30. She posted 50 or more assists in back-to-back matches against Pacific (52) and NIU (51).
ALL-TIME SERIES
? Hawaii leads Iowa, 2-0, all-time. The teams last met on Sept. 3, 2000, at the Hawaiian Airlines Wahine Classic. The Rainbow Wahine recorded a 3-0 win.
? The Hawkeyes and Bruins are meeting for the second time. UCLA won the first meeting, 3-0, at the Hawaiian Airlines Wahine Classic on Sept. 1, 2000.
? Sunday's match-up against American will be the first meeting between the two teams.
NEWCOMERS STEP UP
Five newcomers — freshman Libby Koukol, sophomores Taylr McNeil and Annika Olsen (libero), and juniors Ashley Mariani and Loxley Keala — recorded starts last weekend. Freshman Molly Kelly also saw time in the starting rotation. Olsen currently leads the team in digs (49), Keala paces the team in assists (134), and Kelly owns a team-high eight service aces.
QUICK HITTERS
? The Hawkeyes recorded a season-high 60 assists against Pacific on Aug. 29, besting their 2014 season-high of 59. Junior Loxley Keala accounted for 52 of Iowa's 60 total assists.
? Three Hawkeyes — Lauren Brobst, Jess Janota, and Mikaela Gunderson — notched double-digit kills against NIU on Aug. 30. Brobst led the team with 21, while Janota record 13 and Gunderson added 11.
? Sophomores Annika Olsen and Taylr McNeil each posted double-digit digs in Iowa's 3-2 win over Pacific on Aug. 29. Olsen led the team with 16, while McNeil added 11.
NATIONALLY SPEAKING
Eight Big Ten teams appeared in the AVCA Division I Coaches Top 25 Preseason Poll, released on August 31. No. 1 Penn State, T-No. 4 Nebraska, and No. 6 Illinois made the Top 10, while No. 13 Wisconsin, No. 19 Michigan State, No. 22 Ohio State, and No. 24 Purdue also made the list. Michigan (42) also received votes in the poll.
B1G PRESEASON POLL
The Hawkeyes were picked to finish 11th out of 14 teams in the Big Ten, as announced by the conference office on August 13. Defending national champion Penn State was at the top of the poll, followed by Nebraska, Illinois, Big Ten Champion Wisconsin, and Minnesota. Michigan State, Purdue, Ohio State, Michigan and Northwestern round out the top 10. Iowa occupies 11th ahead of Indiana, Maryland and Rutgers.
2014 IN REVIEW
In his first season at the helm, Bond Shymansky led the Hawkeyes to a 14-17 overall record and a 6-14 mark in Big Ten Conference action.
The Hawkeyes won four consecutive Big Ten Conference matches midway through the 2014 season, topping Maryland (3-0) and Rutgers (3-1) on the road before returning to Iowa City and extending its win streak with victories over Indiana (3-2) and No. 12 Purdue (3-1). It marked the longest streak since 1994, when the Hawkeyes won eight straight Big Ten matches and went on to clinch a berth to the NCAA Tournament — the most recent postseason appearance for the program.
Iowa also defeated its first ranked opponent since 2012 with a 3-1 victory over No. 12 Purdue on Mediacom Court in Carver-Hawkeye Arena on Nov. 8, 2014.
NEW FACES
The 2015 roster features eight newcomers, including four with collegiate experience.
Junior setter Loxley Keala joins the program following two years at Missouri, while junior middle blocker Ashley Mariani transfers after spending two seasons at Tennessee. Sophomore Taylr McNeil — an outside hitter — played her freshman season at South Carolina, and sophomore defensive specialist Annika Olsen adds depth to the back row following a year at Georgia Tech.
The Hawkeyes also welcome four incoming freshmen, including right side hitter Reghan Coyle, outside hitter Reagan Davey, and defensive specialists Libby Koukol and Molly Kelly.
BIG TEN NETWORK COVERAGE
The University of Iowa volleyball team competes live on the Big Ten Network (BTN) or BTN Plus 16 times this season. The Hawkeyes' match against Wisconsin on Oct. 23 in Iowa City will be televised live on BTN. First serve is set for 7 p.m. (CT).
Fifteen Iowa matches will be shown via live stream online through BTN Plus. To see if your cable package gives you access to BTN Plus content, sign up for BTN Plus or learn more about it, visit btn2go.com.
ON THE RADIO
Twelve of Iowa's 20 Big Ten Conference matches will air live on KXIC Radio this season. The first broadcast of the season is Sept. 26 at Nebraska at 7 p.m. (CT). Second-year play-by-play announcer Tim Keating will call the action. Audio for all of Iowa's home and away matches are available online as part of the premium content package on Hawkeye All-Access at hawkeyesports.com.
INTERNATIONAL EXPERIENCE
Middle/right side hitter Jess Janota represented the Hawkeyes on a international platform this summer. The sophomore joined 13 other Big Ten student-athletes — one from each Big Ten institution — to play seven matches from June 13-25 in Croatia, Slovenia, and Italy.
ON DECK
The Hawkeyes open their home slate, hosting the Comfort Suites Challenge on Sept. 11-12. Iowa faces Wisconsin-Milwaukee at 11 a.m. before taking on Iowa Corn Cy-Hawk Series foe Iowa State at 8 p.m. on Friday, Sept. 11. The Hawkeyes conclude weekend action with a 7 p.m. (CT) contest against Texas A&M on Sept. 12.