Box Score

Photo Gallery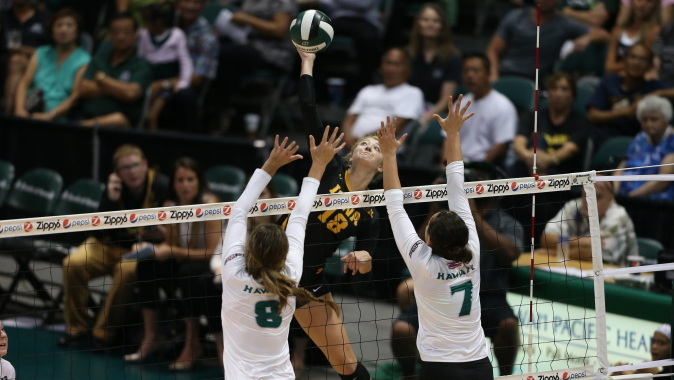 Sept. 4, 2015
HONOLULU — The University of Iowa volleyball team fell to No. 17 Hawaii, 3-1, on Friday night in Hawaiian Airlines Wahine Volleyball Classic action. The Hawkeyes fall to 2-2 on the season, while the nationally ranked Rainbow Wahine improves to 4-0.
The Hawkeyes got off to a roaring start in the first set. A pair of kills by juniors Ashley Mariani and Lauren Brobst gave Iowa early lead. They never lost the momentum from there, taking advantage of eight attacking errors by the Rainbow Wahine. Brobst had the hot hand in the first set, recording four kills, to help the Hawkeyes to a 25-18 set-one win.
"Our group came out and we weren't just hot. We were really clean, motivated and focused," said head coach Bond Shymansky. "I really liked what we were executing. We managed to keep most of it there, but our intensity leaned a little bit."
After a back and forth battle at the beginning on set two, the Rainbow Wahine used a 4-0 run to establish a 13-9 lead. The Hawkeyes fired back with a four-point run of their own, before Hawaii used a pair of kills and an ace to pull ahead and ultimately take set two, 25-20.
Following the break, the Hawkeyes and Rainbow Wahine battled. With Iowa leading, 11-10, Hawaii used a four-point run to establish a lead. The Hawkeyes fought back, with kills by Mariani, Brobst and sophomore Jess Janota to pull within one point, but they could not stop Hawaii's momentum as it won set three, 25-18.
Down 15-12 in set four, the Hawkeyes came back to take a 20-18 lead and force a Hawaii timeout. An ace by Janota, kills by Brobst and sophomore Annika Olsen, and a block from Janota and senior Mikaela Gunderson aided the rally. Hawaii came storming back following the timeout, scoring four-straight points to eventually win the set (25-21) and the match.
"Once again, we are there in a really tight situation at the end," said Shymansky. "We just need everybody to be steely competitors. You have to get trial by fire in moments like this. Just like at Northern Illinois, we just weren't as tough as we needed to be mentally."
Brobst tallied 14 kills to lead the Hawkeye offense. Junior Loxley Keala dished out 26 assists, Olsen recorded a team-best 19 digs and Brobst led the blocking effort with four.
"There is way more than hope that we have right now," Shymansky said. "We have a really good team. This team is on the brink of being great when we can learn how to close it out at the end against great teams like Hawaii on their home court."
The Hawkeyes return to Hawaiian Airlines Wahine Volleyball Classic action on Saturday with a 9:30 p.m. (CT) contest against No. 25 UCLA.
| | | | | |
| --- | --- | --- | --- | --- |
| Iowa at Hawaii | 1st | 2nd | 3rd | 4th |
| Iowa (2-2) | 25 | 20 | 18 | 21 |
| Hawaii (4-0) | 18 | 25 | 25 | 25 |
Statistical Leaders
Kills: Brobst (IOWA) 14 | Taylor (HAWAII) 18
Assists: Keala (IOWA) 26 | Higgins (HAWAII) 44
Digs: Olsen (IOWA) 19 | Kahakai (HAWAII) 15
Blocks: Brobst (IOWA) 4 | Magill (HAWAII) 11