Box Score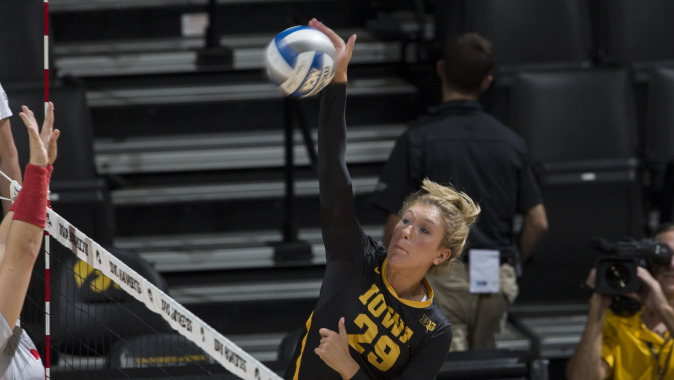 Oct. 3, 2015
UNIVERSITY PARK, Penn. — The University of Iowa volleyball team battled but fell in straight sets to No. 1 Penn State on Saturday night at Rec Hall. With the loss, the Hawkeyes fall to 10-7 overall and 0-4 in Big Ten action, while the defending national champion Nittany Lions improve to 14-1 overall and 3-1 in conference play.
"We were so much better tonight," said UI head coach Bond Shymansky. "We were tough, gritty and aggressive. We have something. We could see it last night against Ohio State, but we fizzled at the end. Tonight we didn't fizzle.
"I keep telling the team we are going to be in tight matches with the best teams in the country and the best teams in the conference. It's how we respond. Eventually we are going to get this thing done. I'm proud of our group. We had a much better team performance tonight."
After a back and forth battle to start the first set, the Hawkeyes used a 7-1 run to establish a lead. Junior Lauren Brobst and senior Mikaela Gunderson each added kills to the rally, while junior Alyssa Klostermann registered a pair of service aces. The Nittany Lions fought back, however, using a four-point run of their own to tie the set, 12-12.
Following an Iowa timeout, the Hawkeyes fired back with kills from freshman Reagan Davey (2) and sophomore Jess Janota (2) to take an 18-13 lead. Iowa also got the block going as Davey (1), Janota (2) and Gunderson (1) each recorded block assists. Penn State clawed their way back, using a five-point swing to gain the lead and ultimately win the match, 26-24.
Penn State got out to an early lead in the second set and never looked back. The Nittany Lions used a .607 attack percentage on 18 kills and just one error to win the set, 25-16, and take a 2-0 lead in the match.
Iowa got out to a 7-3 in the third set before the Nittany Lions came back to take a lead. Down 16-13, Shymansky called a timeout. His team responded with a 6-2 run to take a 19-18 lead. Davey (2), Gunderson (1), and Janota (1) all added kills to the rally, while junior Loxley Keala added an ace. It was back and forth from there until the Nittany Lions registered back-to-back kills to seal the 25-23 victory.
Janota led the Iowa offense with 10 kills, while junior Loxley Keala dished out 36 assists. Sophomore Annika Olsen paced the team with 13 digs, and Gunderson led the blocking effort with four.
"These opening four conference matches are more challenging than what anybody else in the country has to play," Shymansky added. "Our group has not lost confidence or belief, and we are starting to play some really good volleyball."
The Hawkeyes return to Carver-Hawkeye Arena for a pair of Big Ten matches next week. Iowa takes on No. 23 Michigan on Wednesday, Oct. 7, before hosting Michigan State on Oct. 10.
| | | | |
| --- | --- | --- | --- |
| Iowa at #1 Penn State | 1st | 2nd | 3rd |
| Iowa (10-7, 0-4) | 24 | 16 | 23 |
| #1 Penn State (14-1, 3-1) | 26 | 25 | 25 |
Statistical Leaders
Kills: Janota (IOWA) 10 | Courtney (PSU) 12
Assists: Keala (IOWA) 36 | Weiskircher (PSU) 34
Digs: Olsen (IOWA) 13 | Courtney (PSU) 13
Blocks: Gunderson (IOWA) 4 | Washington/Lee (PSU) 3