Box Score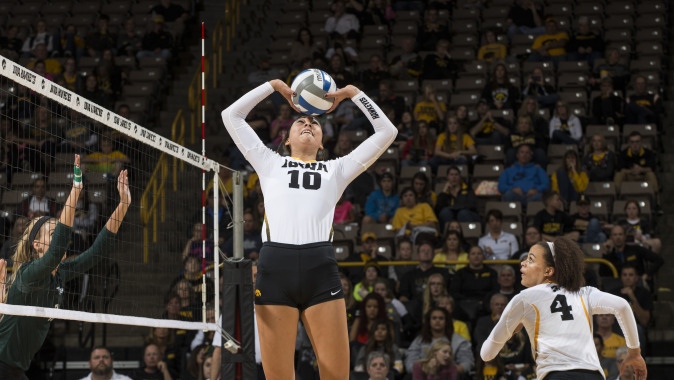 Oct. 16, 2015
CHAMPAIGN, Ill. — The University of Iowa volleyball team fell to No. 16 Illinois in straight sets Friday night in Huff Hall. With the loss, the Hawkeyes fall to 10-10 on the season and 0-7 in conference action, while the nationally ranked Illini improve to 12-6 overall and 3-4 in Big Ten play.
"Our group is looking, battling, and trying to figure out who we are going to be as competitors when we are in somebody else's environment," said UI head coach Bond Shymansky. "We just showed up too late tonight. Give Illinois credit. They did a really nice job."
Illinois got out to an early lead in the first set and never looked back. The Illini used a .379 attack percentage and 17 kills to coast to a 25-16 set one victory.
The Illini kept the momentum in the second set. Illinois got out to an early 6-2 lead and never trailed, hitting .294 to take a 2-0 lead in the match. Service errors proved to be a problem for the Hawkeyes as they recorded seven serving errors in the first two sets.
Illinois got out to a 5-1 lead in the third set, before the Hawkeyes fired back. Iowa used a 6-0 run to take a 7-5 lead. Kills by sophomore Jess Janota, junior Lauren Brobst, and senior Mikaela Gunderson assisted the rally. The Illini responded with a six-point run to regain the lead. The Hawkeyes fought back to tie the game at 21 and eventually take a 24-23 lead, but could not close out the set. Illinois used back-to-back kills to seal the 26-24 set victory.
Gunderson led the Iowa offense with eight kills and a .500 attack percentage, while junior Loxley Keala dished out 28 assists. Sophomore Annika Olsen led the team with 13 digs, and junior Lauren Brobst led the blocking effort with three.
"We are doing the `close but no cigar bit' a little bit too much," said Shymansky. "We get part of it, but not all of it. When we get all of it we can win. We've shown that in sets over the course of the season and in Big Ten play.
"I have to get our team back to feeling what we felt about ourselves after our Iowa State victory or after our Texas A&M victory. I think we've just lost that feeling a little bit. You can do a lot of things and you can say a lot of things, but they have to have confidence out there on the court."
The Hawkeyes return to action Sunday when they travel to Northwestern. First serve is set for 1 p.m. (CT) at Welsh-Ryan Arena. The match will be streamed live online via BTN Plus.
| | | | |
| --- | --- | --- | --- |
| Iowa at #16 Illinois | 1st | 2nd | 3rd |
| Iowa (10-10, 0-7) | 16 | 16 | 24 |
| #16 Illinois (12-6, 3-4) | 25 | 25 | 26 |
Statistical Leaders
Kills: Gunderson (IOWA) 8 | Strizak (ILL) 12
Assists: Keala (IOWA) 28 | Poulter (ILL) 38
Digs: Olsen (IOWA) 13 | Donnelly (ILL) 13
Blocks: Brobst (IOWA) 3 | Stadick (ILL) 4