Box Score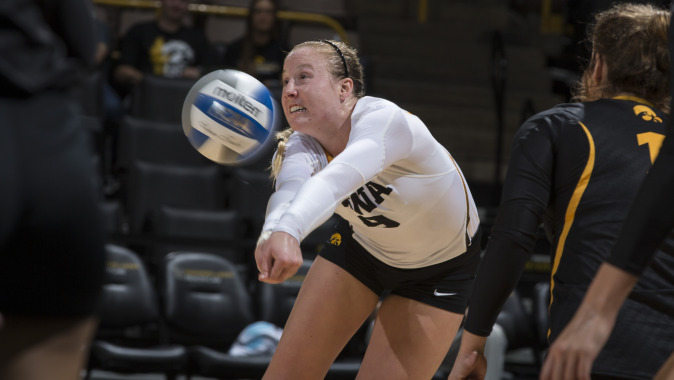 Oct. 18, 2015
EVANSTON, Ill. — The University of Iowa volleyball team dropped a four-set match to Northwestern on Sunday afternoon at Welsh-Ryan Arena. With the loss, the Hawkeyes fall to 10-11 on the season and 0-8 in Big Ten action.
"We were so up-and-down," said UI head coach Bond Shymansky. "We were struggling. It happens so easily on the road in the Big Ten. You really just have to keep your composure. We just couldn't keep it stabilized the whole way through.
"This is just part of where we are at right now. We are trying to grind, find a way to get that first win, and fend off the self-doubt that just seems to be creeping in. I just have to do a better job of getting them going and getting them believing again."
The Hawkeyes got out to an early 9-4 lead in the first set before the Wildcats used an 8-1 run to take the lead. Northwestern maintained control from there, using an eight-point swing to create distance and coast to a 25-16 set-one victory.
The second set was a back-and-forth battle from the start, featuring 15 ties and eight lead changes. Down 22-21, Shymansky called a timeout. The Hawkeyes responded with a four-point run to win the set, 25-22. Freshman Molly Kelly served up the rally and added an ace, while junior Lauren Brobst and senior Mikaela Gunderson combined for a block and a pair of kills. The Hawkeyes hit .306 in the set with the help of 11 assists from junior setter Loxley Keala.
Northwestern came out swinging in set three, recording a .333 attack percentage. The Wildcats gained an early lead and never trailed, winning the set 25-11.
The Wildcats held on to the momentum in the fourth set, getting out to an early 8-3 lead to force an Iowa timeout. The Hawkeyes rallied to come within one point three times, but could not take the lead. The Wildcats used a four-point run late to create distance and seal the 25-20 victory.
Northwestern hit .308 in the match, and held the Hawkeyes to a .135 attack percentage. The Wildcats also held the block advantage (14-7).
Freshman Reagan Davey led the Iowa offense with 11 kills, while Keala dished out 28 assists. Sophomore Annika Olsen led the team with 16 digs, and Gunderson notched a team-high three blocks.
The Hawkeyes return to Carver-Hawkeye Arena when they host Wisconsin on Oct. 23. The match is set for 7 p.m. (CT) and will be air live on BTN.
"We got two weeks coming up at home, and I think that's really going to be a good thing for us," said Shymansky. "It's not going to be easy, but we are just going to have to get a lot tougher."
| | | | | |
| --- | --- | --- | --- | --- |
| Iowa at Northwestern | 1st | 2nd | 3rd | 4th |
| Iowa (10-11, 0-8) | 16 | 25 | 11 | 20 |
| Northwestern (12-7, 4-4) | 25 | 25 | 25 | 25 |
Statistical Leaders
Kills: Davey (IOWA) 11 | Lavin/Abbott (NW) 12
Assists: Keala (IOWA) 28 | Tashima (NW) 41
Digs: Olsen (IOWA) 16 | Niedospial (NW) 19
Blocks: Gunderson (IOWA) 3 | Tashima/Hazen (NW) 4