Box Score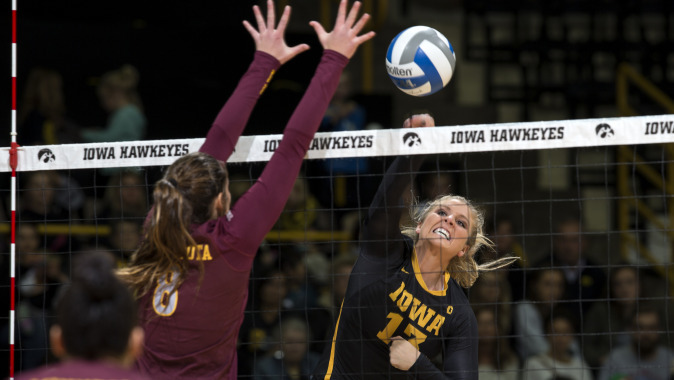 Oct. 24, 2015
Box Score

| Final Stats | Photo Gallery

IOWA CITY, Iowa — Despite a late third-set rally, the University of Iowa volleyball team fell to No. 9 Minnesota in straight sets on Saturday night in Carver-Hawkeye Arena. With the loss, the Hawkeyes fall to 10-13 on the season and 0-10 in conference action, while the nationally ranked Golden Gophers improve to 17-3 overall and 9-1 in Big Ten play.
"We went in at the break looking flat," said UI head coach Bond Shymansky. "I told them we have to remember how to fight, win, and do it the Hawkeye way. We finally showed it in the third set.
"That's my team. That's who we really are. We can fight with that kind of effort. I loved our grittiness and the attacking mentality. Players were scrapping to beat each other for the ball, and that's the mentality you need to have."
Minnesota used a five-point run to gain an early lead in the first set and never looked back. The Golden Gophers registered three team blocks and held the Hawkeyes to a .059 attack percentage en route to a 25-17 first set victory.
The Golden Gophers held on to the momentum in the second set, establishing an early lead with a 5-0 run. Minnesota stayed hot from there, registering a .412 attack percentage and 16 kills to win the set, 25-15.
The third set was a back-and-forth battle, featuring 14 ties and five lead changes. Minnesota used a seven-point swing to establish a 14-7 lead. The Hawkeyes fought back, however, using a 6-2 run to tie the set, 21-21. Senior Mikaela Gunderson had the hot hand, adding four kills to the rally, while junior Ashley Mariani added two. The Hawkeyes and Golden Gophers traded points from there until Minnesota strung together back-to-back kills to seal the 27-25 set victory.
"Gunderson's a work horse," said Shymansky. "I think she's doing a great job as a senior. She has that mentality of putting it all out there. She showed that tonight. I'm proud of her and our whole group."
Gunderson finished the night with 11 kills — seven of which came in the third set. Freshman Reagan Davey notched a double-double with 11 kills and 10 digs. Junior Loxley Keala dished out a team-leading 36 assists, and sophomore Annika Olsen paced the team with 11 digs.
"I think it's clear that we are willing to battle, and we're not going to quit," said Shymansky. We have tons of volleyball left in front of us this season. You can feel the intensity and momentum in our group building. We keep saying there is something bubbling underneath, and it bubbled to the surface here at Carver tonight."
The Hawkeyes remain home next weekend, hosting Maryland on Oct. 30 and Rutgers on Oct. 31.
| | | | |
| --- | --- | --- | --- |
| Iowa vs. #9 Minnesota | 1st | 2nd | 3rd |
| Iowa (10-13, 0-10) | 17 | 15 | 25 |
| #9 Minnesota (17-3, 9-1) | 25 | 25 | 27 |
Statistical Leaders
Kills: Gunderson/Davey (IOWA) 11 | Santana (MINN) 13
Assists: Keala (IOWA) 40 | Seliger-Swensen (MINN) 40
Digs: Olsen (IOWA) 11 | Rosado (MINN) 10
Blocks: Keala/Davey/Brobst (IOWA) 1 | Tapp (MINN) 4